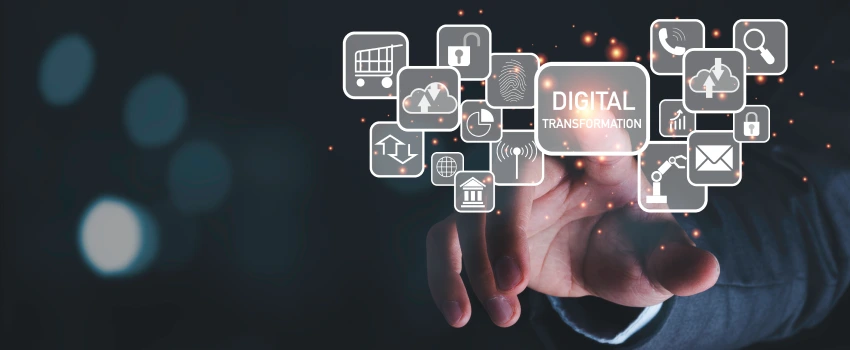 We are all aware of the digital transformation happening worldwide. Things have gotten easier with Mobile apps, and business operations are made easier with business portals. So, the 21st century is all about digital transformation and upgrading your business with a mobile app or business portal to make more revenue. Businesses that have a business portal are managing their business from anywhere in this world as long as they have a good internet connection. 
There are a lot of business portals available on the internet, and some businesses use SaaS business portals, while some businesses develop their own business portal, which addresses all of their business needs. Most time, they hire Liferay Developer or such kind of portal developers that can develop a portal from where you can manage everything about your business.
Liferay Digital Experience Platform provides you with the facility to develop your business portal in the way you want, with out-of-the-box features that don't require any code and can be implemented quickly. Liferay has recently introduced the Liferay DXP 7.3, and here we will see how Liferay DXP7.3 can provide digital transformation to B2B organizations.
Digital Transformation with Liferay DXP 7.3
We will see new features and functions of Liferay DXP 7.3 that can help various B2B organizations and other businesses. Ever since the launch of Liferay DXP, they are improving the portal for businesses so they can manage their business operations with ease. 
The innovations in Liferay DXP 7.3 extend our historical strengths by helping businesses speed up the process of content creation, improve experience management, and digitize operations to the benefit of both IT and business users", says Ed Chung, VP of Global Product Management at Liferay.
We have seen Liferay DXP 7.2 End Of Life, but this time, Liferay has come with a newer version Liferay DXP 7.3, and it will help business organizations with digital transformation by offering the following features:
Site Building
A business website is a necessary thing to have, and Liferay DXP 7.3 provides you with a visual fragment composition facility through which you can create, save, and re-use the same fragment anywhere on your website. It reduces the coding and allows you to re-use the same module anywhere on the website. You can customize those fragments and change their properties anytime you want. So, if you have to add another fragment to your website's page, then you don't have to code for it, you just have to copy the fragment and make changes in the fragment, and you're done.
So, the visual fragment composition will allow you to create, edit, and re-use fragments within your website or web portal so you can save development time and costs. 
Content Dashboard
A content dashboard will form a graphical representation of all types of content on your website or web portal. You can sort and filter that content easily with the content dashboard. You can also see the generated content on your web portal and asset libraries so you can get an idea about the present content on your website or web portal. Handling a lot of content can be a headache sometimes, and this content dashboard will help you sort and filter the content as per your needs, so this is a nice feature developed in Liferay DXP 7.3
The dashboard will depict the data in a bar-graph format, so you know which type of content is doing better, and it will help you improve the content strategy. 
SEO Configuration
The new Liferay DXP 7.3 will help you with Search Engine Optimization, aka SEO. With Open-graph support, redirection management, and a lot more features, Liferay DXP 7.3 will surely help businesses with search engine visibility. The Open-graph will allow the user to see live page previews and how their page will appear on search engines and social media networks. This feature will allow the user to optimize their page according to the search engines and social media networks.
Liferay DXP 7.3 also keeps track of all 404 errors, so you can often check the 404 pages and redirect the users to the right page. If the page user wants to visit is broken, or the link is broken, Liferay will record it and let you know about the missing link, and you can put the right link in there and improve your website engagement.
GDPR Compliant Forms
Liferay DXP 7.3 provides you with a GUI and development tools to create GDPR Compliant forms. With this feature, an organization will be able to easily perform operations like Data Erasure, Data Export, and Report Creation. So, you don't have to manually code the data erasure functions, data export, and report creation functions, as it is provided with Liferay DXP 7.3. 
You will save a lot of development time and costs by upgrading to Liferay DXP 7.3, and there will be many more features in Liferay DXP 7.3. 
The above-mentioned features will surely help you with digital transformation for your business and make your business a notch above. These features are carefully developed by Liferay after so much study, so it will help you with your business' digital transformation.
Final Words:
If you want to transform your business digitally, then you should consider upgrading to Liferay DXP 7.3, and with the new features, your business will touch the sky heights. If you are looking for a Liferay Consultant to develop a web portal with Liferay DXP 7.3, then contact us now, or drop an email at sales@inexture.com, and we will contact you very soon for your portal development requirement. INEXTURE is the best Liferay Consulting Company that will help you with building your web portal or upgrading the current one to the latest.