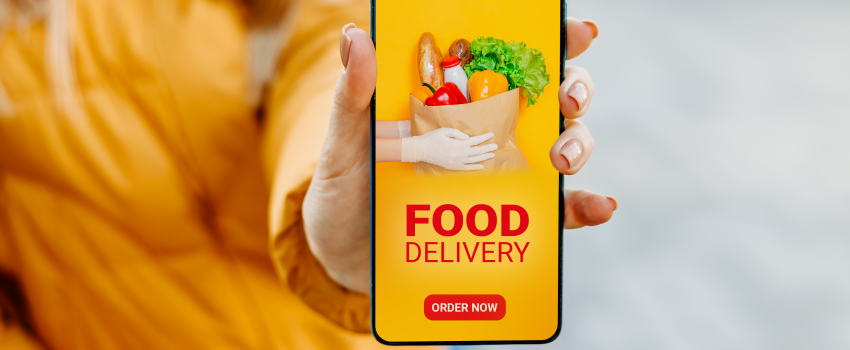 When the pandemic hit the world in 2020, almost all businesses had very little hope. Every business person thought about what would happen if this didn't stop. But, things got back to normal, and some unexpected events happened. One of those surprising things was the rise of food delivery businesses.
Here are some mind-blowing stats about food delivery!
The most significant food delivery markets like the US, the US, Canada, and Australia grew 4-8 times from 2018-2021.

The global food delivery market size rose by

$4 billion between 2019 and 2020

. However, it is expected to grow by $43 billion by 2023 to reach a total valuation of $154.34 billion.

Doordash, Uber Eats, Postmates, and Grubhub were the top players in the market.
These stats are an indication of the fact that the food delivery business has grown and will grow in the future. If you are planning to be a part of it, now is the time to hire a mobile app developer and get started!
Why an app for your food delivery business?
If you have noticed, almost all food delivery businesses solely provide a mobile app to their customers. Ever wondered why?
Well, there are numerous reasons to build a mobile app for your business. Let's uncover those reasons!
Convenient: A mobile app is much easier to use than any other method. As long as a business keeps the user experience of the app good, there will be no shortage of loyal customers.
Time-saving: Hunger might hit your stomach anytime; you never know. This is the reason apps are designed for food delivery. Mobile apps are faster to access and can be accessed almost anytime.
Mobile penetration: As per statista, there are over 6000 million smartphone users in the world currently. It is easy to understand that if you don't create an app for your business, the scaling would be almost impossible.
Rewards: Another cool reason to invest in a mobile app is the tactics to attract the customer. Unlike PCs or laptops, you can add countless handy features in your app like location tracking, payments, rewards, discounts, etc.
These are some critical reasons due to which you need to invest in a mobile app. However, it is not just limited to this. It is equally necessary to study the market, discover the app development ideas, features and models beforehand.
Some key features that should be a part of your food delivery mobile app are:
Payment system

Downloadable (not a web app)

Speedy performance

Interactive UI
Business Models for Food Delivery Apps!
If you are a startup mobile app development company, a close analysis of all the food delivery business models is crucial for you. As there is a lot of competition out there, one wrong decision may put you in a very bad state.
The Platform To Consumer Model (Order Only)
Being a startup, you can hire dedicated developers and build an order-only mobile app for your users. The working of this model is as follows:
The owner creates an app where various restaurants can register to serve the customers. Once the user places the order, the food is delivered to the user. The catch here is that the food is delivered via the delivery services of the restaurants, not the owner. Another crucial thing is customer support. If there is any issue regarding the food or its quality, the delivery agent or the restaurant has to deal with that.
The Ups and Downs of the Model!
Monetization models
The model has limitations does not mean that you cannot make money from it. There are countless methods to monetize this model. Here are some of them!
Commissions: The key way of making money from a food delivery app is via commissions. The commissions can be around 10-20% per transaction.
Pay to be on top: As there can be many restaurants on the app, allow some of them to rank on top. In return, you can charge a nominal fee per month.
Some live examples of food delivery apps based on this model are:
Grubhub

Seamless

Easy food

FoodPanda
Order and Delivery Model
This kind of model is adapted by countless delivery chains around the world. Therefore, if you are planning to choose this, consider the competition. Here is how this model works!
The order and delivery model begins with customers ordering the food from any restaurant listed on the app. The order-related details are sent to the restaurant, and the user is notified that their order is received. Once the order is ready, the nearby fleet of delivery drivers is notified. One of those drivers collects the order and delivers it to the user.
The key thing to note here is that the foodservice provider deals with the order deliveries too. Hence, restaurants don't need to manage their dedicated delivery fleet.
One more thing that can be a part of this model is delivery modes. It can be point-to-point or milk-run delivery.
Point-to-point: The rider takes a single order from one restaurant and delivers it to one customer.
Milk Run: In this, a rider collects multiple orders from one location and delivers it to multiple users.
The app complexity in this model is a bit more. Therefore, you need to hire dedicated ios developers who can deliver the best.
Here are Some Pros and Cons of this Model!
The major challenge here is the setting up and management of the delivery fleet. Once you do that, you can scale up easily.
Monetization Models
Subscriptions: Offer subscriptions to restaurants for featuring on the homepage. Offer rewards and free delivery to customers for subscribing.
Commissions: You can charge a fee to customers for delivering at a precise location, while restaurants are already entitled to some commissions for delivery services.
The key players of this model are many such as:
Swiggy

Zomato

UberEats

Deliveroo
Full-Stack Business Model
If you want to build a business based on this model, you need to examine the cost of on-demand app development and other factors like delivery services, inventory management, etc. closely. In this model, everything from preparation to delivery is handled by one party. Hence, the cost is high!
In this model, the customer orders from the dedicated app of the restaurant. The restaurant receives the order and assigns a time window to the customer. When the order is ready, a rider from the restaurant's fleet delivers the order to you.
Some restaurants cook the order themselves. However, some of them hire ghost kitchens to prepare the meal and deliver it to the user under their name. In this scenario, the ghost kitchens do not have a dine-in option.
Pros and Cons of Full-Stack Business Model
The challenges in this model are many such as:
Cost

Delivery fleet

Limited menu

Less known brand name (that's why only branded businesses employ this model, such as Pizza hut).
Monetization Models
As you manage everything from start to end, you can activate:
Service charges: You can introduce the concept of priority deliveries and subscriptions to make extra profit apart from normal deliveries.
Unique packages: You can leverage the benefits of the meal-kit model and can also take large orders from corporates for more profit.
As this kind of food delivery app is different, you need to hire dedicated app developers for the development process. They can seamlessly introduce the mentioned monetization models into the app.
Some restaurants that employ this model are:
Restaurant to Consumer model
Big brands like McDonald's, Papa John's come under this category. In this model, restaurants bring the food to your location via their delivery fleet. However, the area served by the restaurants is limited. This is different from the full-stack model because there is no scenario of ghost kitchens.
This type of business model also requires a dedicated app for each platform if you want to cover the maximum market. Therefore, you need to hire a custom android apps development team.
Here are Some Pros and Cons of this Model!
Monetization Models
Profit margin: As you are controlling everything from orders to delivery, you can make changes to your pricing to get maximum profit. However, be considerate as it may push away loyal users.
Mergers: To ensure your business runs smooth and stays profitable, you can acquire firms or merge with the bigger ones for a wider market.
Which Food Delivery Mobile App Business Model is the best?
All the food delivery mobile app business models have their unique pros and cons. However, there are some aspects that rank the order and delivery model above others. Here are some of those aspects:
The commissions can be earned from both customers' and restaurants' ends.

Restaurants do not have to deal with any logistics.

The app usage is simple and fast.
It is the most preferred model for startups. However, choosing it is not a compulsion. Based on your business and preference, you can pick any other one also.
The food business is evergreen. No matter what happens, food will be required by everyone, and when it comes to quality, there is no stopping any business. As users today prefer quality more than quantity, a delivery app based on any model will likely succeed.

If you plan to make a food delivery app, you need to know how to hire flutter app developers. You are also open to using other platforms, but Flutter is a one-stop solution for making apps for all platforms.