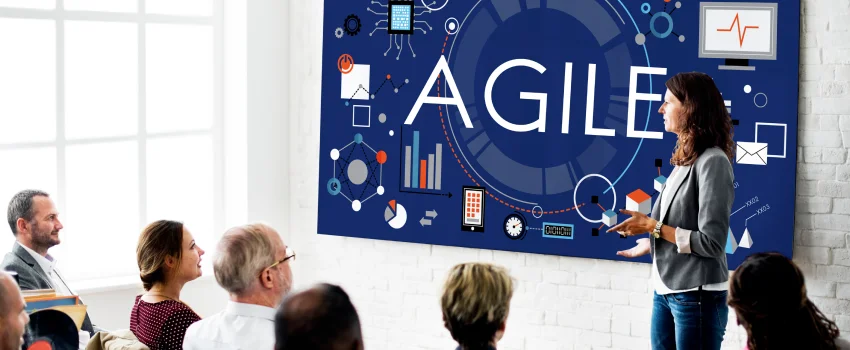 This is the trend of enterprise Agility where businesses are realizing their true value.
Technically, it is reaching larger viewers and garnering more notoriety. But what exactly does the term "agile" in business mean? We will discuss every essential aspect of Enterprise Agility in this blog. 
Discover Enterprise Agility, how to accomplish it, and how firms can implement change by implementing an agile enterprise solution. Just stay Tuned.   
What is Enterprise Agility?
A strategy for scaling agile approaches outside of development teams is called enterprise agility. Enterprises may reduce operational costs, raise customer happiness, and boost staff engagement with a strong and effective agile transformation.
Businesses that have experienced and reached development success are better positioned to spread these practices throughout the company and increase the influence of agility across more diverse areas of the organization.
Compared to standard procedures, enterprise agility transformation entails more of them. Unlike typical agile approaches that only focus on IT-centric jobs, enterprise agility projects span larger teams.
A classic agile team should ideally include developers, operations teams, DevOps, and testers. As time goes on, the team includes data scientists, data engineers, business subject matter experts, and security teams. However, the corporate agile methodology makes a difference in this situation. It is the natural extension of the core agile concept used by a variety of teams, including those in the legal, marketing, human resources, financial, and various engineering disciplines.
Benefits of enterprise agility
Enterprise agility offers a number of important advantages, such as the following:
Increased client satisfaction

Improved compatibility between brand-new corporate concepts and consumer demands

Shared goals boost employee engagement

More honest and time-sensitive communication

Enhanced operational efficiency

More precise planning and budgeting
The Importance of Enterprise Agility
Enterprise agility should be a top priority because it gives you the best chance of success by preparing you for the worst-case scenario. A flexible and agile business can adapt to changing market conditions in any way and succeed as a result.
Employee Engagement
An agile business includes:
A distinct mission, values, and vision

Empowered and competent staff

A thorough insight into its intended audience

Team arrangements that are flexible and give power
Employees at these companies have a distinct feeling of purpose and are aware of the significance of their work.
Of course, when employees feel a connection to the firm and its principles, they are more driven to give it their all. This enhances output and overall company performance.
Operational effectiveness
Here enterprise agility plays a crucial role. It is essential for enhancing operational performance since ready and agile businesses produce better work outcomes consistently.
Agile businesses are successful because they have 
well-defined, efficient processes.

empowered and inspired workers.

All required productivity tools, plus more, to boost performance
Consumer satisfaction
Agile businesses are able to respond to the changing wants and preferences of their clients while also better understanding their needs.
Such businesses pay attention to customer feedback and modify their offerings in line with it. They can advance consumer relationships as a result.
How can you achieve Enterprise Agility?
Now that you know why business agility is crucial, let's talk about how to make your company agile.
You must change things in four key areas to do that: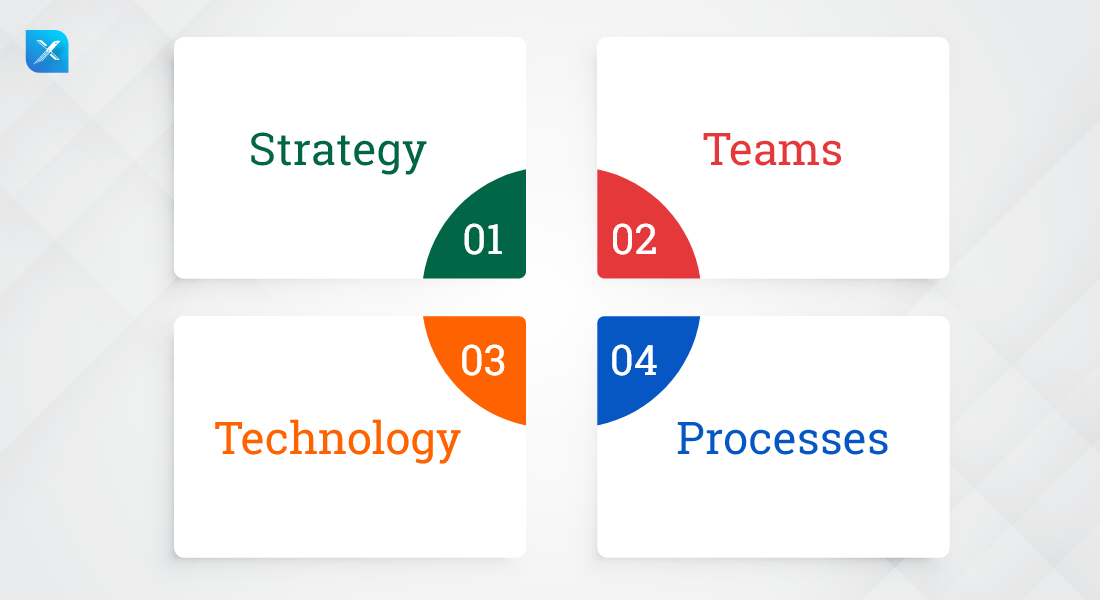 Strategy
Agile organizations require a strong sense of mission and core values. However, they ought to be adaptable enough to alter their strategic course in response to evolving requirements.
Enterprise agility requires that you:
Establish your key principles and let your staff members know about them constantly.

Have a distinct vision and purpose, yet keep working to achieve your short-term objectives.

Understand the needs and preferences of your target customer category.
Teams
The adaptability of its teams is one of the factors that contribute to an organization becoming agile.
Consequently, give your staff the freedom to accept interesting new challenges if you want your business to be nimble. Do not promote rigid roles and schedules. Set the stage instead for creativity and original thought.
Decentralize and optimize your decision-making processes as well to move swiftly rather than impatiently awaiting approvals. The key in this situation is to have faith in your staff to take on new duties and act quickly when necessary.
Technology
One of the most crucial elements in conducting an agile transformation is technology.
Therefore, be sure to adopt new tools and technology that improve team member performance and streamline your business procedures.
Here are a few examples of how technology can make you more flexible and responsive to change.
Artificial Intelligence

– AI-based systems can facilitate quick data collecting and analysis to support corporate strategy. Through live chat, AI Chabot can assist in providing multichannel, seamless consumer experiences around-the-clock.

Advertising automation –

Your marketing can become more focused and effective by using one of the many marketing automation technologies available. For instance, you can send users targeted emails based on specific triggers with automated email marketing.

Other technologies –

You can optimize your business processes using a variety of technologies, such as machine learning and process automation.
Processes
Agile businesses have streamlined, effective processes that boost overall productivity and save costs.
To get you started, consider these suggestions: 
Find the most efficient ways to complete jobs, and establish clear procedures.

Make sure everyone is informed of their obligations.

To make time for more vital tasks, automate repetitive tasks.

To achieve the best outcomes, work in cross-functional teams and with collaboration tools.
Everyone should be aware of the procedures and their specific duties, but there should also be room for development.
Develop a culture of expansion and innovation to continue improving your procedures over time.
Conclusion
The company's existing traditional methods have been displaying their limitations for a while. However, companies should immediately embrace an Agile mindset if they want to increase quality, productivity, and resource efficiency.
This is due to the fact that agile firms like Inexture constantly improve their processes to provide the required results. Teams can improve their work methodology to increase productivity by drawing lessons from each agile iteration. Businesses that adopt agile concepts across the board are better able to maintain high levels of productivity in both work and operations after making the initial transition to agile working methods.