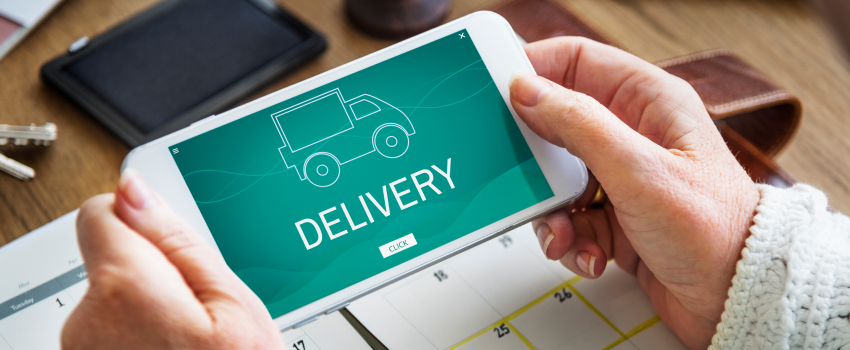 The on-demand delivery business has risen like never before. There are a plethora of on-demand delivery applications out there in the market, that fulfills our demand for food, groceries, medicines, household items, and a lot more things with just a few taps on our smartphones. We all are used to online ordering whether it is our favorite food or your favorite book. The on-demand delivery solution has been the most convenient thing for a lot of people as they can order anything they want and they will be getting it in no-time without stepping out their feet.
According to a Statista report, online food delivery apps will have a whopping revenue of $32 billion alone in the USA by the next four years. So, we can't deny that online delivery apps have been a part of our lives, and we need such apps in our smartphones to get our favorite food from our favorite restaurant with just a few taps. 
Looking at the reports and current usage of on-demand delivery applications, we can say there will be more and more on-demand applications such as on-demand food, on-demand groceries, on-demand grooming sessions, and a lot more things we can't even think of.
So, if you are a business owner, you should consider opting for On-demand app solutions to make your business on-demand and start serving your customers on-the-go! But, if the costing is what is bothering you from serving your customers on-demand, then stop worrying about the costing as you can hire mobile app developers offshore with minimal costing.
Why Develop On-demand App
After looking at all these, are you still confused about why develop an on-demand app? We will try to give you more reasons why one should develop an on-demand app and be future-ready for the upcoming digital revolution.
It Offers Flexibility
The most loved feature by any customer is flexibility. If you offer flexibility to the users, users will love it. An on-demand offers flexibility for both the business owner as well as the customers. Users can get their favorite food, product, or services right at their homes without stepping their feet out, and your business gets the flexibility to expand their user base. It becomes very easy for the business to process the order and send it to their customers through a delivery agent.
It increases user base
Once the customers get used to your on-demand app, you will get more frequent orders from them and that's how you create a loyal user-base. A happy customer will spread good words about your app in their circle as well, and that's how you will get more and more users and can increase your business revenue through it. So, developing an on-demand app for your business will help you in growing a loyal customer base too.
Customer Behavior Monitoring
With a mobile app, you can monitor your customer's behavior as well. You can analyze how they browse and visit different products or services, and you can plan a business strategy accordingly. This monitoring will help you plan your business strategy effectively. You can see when the user drops the checkout and what is the reason to drop the checkout, and you can work on improving their experiences and increase the checkout ratio.
Send Push Notifications
When you own a mobile app for your business, you can send your customers push notifications as well. With push notifications, you can remind the customer about the products in their cart, the products in their wishlists, and about the arriving orders as well. In short, you can send literally any message to your customers with push notifications. Push notifications work great when the customer has not visited your app for a long time, and it is even able to convert the users.
Types of On-demand Delivery Apps
There are mainly three types of On-demand delivery apps in the market, and most of the on-demand apps are from those three types. It includes Enterprise to Person, Enterprise to Enterprise, and Person to Person. Let's see what are those types in detail.
Enterprise to Person
Enterprises generally create an on-demand app to serve its customers through the app. An Enterprise-to-Person type of on-demand app provides products or services of an Enterprise to individuals, as the name suggests. Most food delivery apps are Enterprise to Person models. For example, UberEats, GrubHub, Foodpanda, Zomato, etc. Another non-food delivery E2P on-demand app example is UrbanCompany which provides salon services at your home.
So, Enterprises or Businesses who want to serve its products or services to their customers on-the-go, develop an on-demand application that allows them to do so.
Enterprise to Enterprise
This kind of on-demand application serves businesses. Businesses need suppliers, service providers, etc. to run their business operations. An enterprise that serves other enterprises through an on-demand app is the example of Enterprise to Enterprise kind of application. We can take an example of a logistics partner that serves eCommerce industries with shipping. At the end of the day, eCommerce companies need to dispatch all the orders they have received, and to fulfill those orders, eCommerce companies generate a request to the logistics partner, and the logistics partner shows up at their warehouse to collect all the orders.
So, this E2E kind of on-demand app serves other businesses to complete their business operations. An example of an E2E kind of on-demand app is FedEx, DHL that serves a lot of Enterprises.
Person to Person
Person to Person on-demand application enables transactions between end-to-end consumers. OLX and Quikr are great examples of Person-to-Person Applications. This type of on-demand application is developed by Enterprises to enable second-hand selling between end-customers. An enterprise earns by putting ads into the app or by putting in-app purchases.
Second-hand cars, bikes, electronics items, books, and other such products are generally listed on P2P applications, and buyers and sellers meet at a safe place to finalize the deal.
Various On-demand Delivery Apps
A lot of on-demand delivery apps are doing business around us. There is on-demand grocery delivery, on-demand laundry service, on-demand food delivery service, on-demand grooming services, and a lot more. The most famous among all of those businesses is the food-delivery app business. People go hungry every once in a while, and due to pandemic, they don't prefer going out, and hence they choose to get their food delivered to their home instead of going out in a restaurant.
But, at the same time, on-demand groceries, and on-demand grooming service is also on the rise, because going out to a salon can be quite risky, and that's why people choose to get groomed by professionals at their home instead. There are on-demand salon apps that provide you with the facility to schedule a grooming session for yourself at your very own home, so you don't have to step out and take the risk.
On-demand Delivery App Cost Estimation
On-demand delivery app development is not as costly as you think. When you hire offshore developers to work on your next app, you can get it developed at pocket-friendly costs. Let's see how much it costs to develop an on-demand delivery app.
To calculate the exact cost of your delivery app development, you need to calculate how many hours of work it requires. By multiplying the total working hours with hourly development rates, you can calculate the total app development cost.
A normal Android App Development Costing stays around 400 hours which includes a simple Android app, which includes the wireframe design, UI Design, Development, and Testing of the app. If you want a more advanced app with advanced features, then it may take more working hours and exhaust more budget. The following factors affect the costing of your on-demand delivery app.
-Wireframe of the App
-U/UX Design of the App
-App Development
-Live Tracking to be involved or not
-Testing of the App
So, different steps take different time to get developed, and if you want to add live tracking of the delivery person, it may consume more budget. You can estimate average working hours for all the phases and can come up with an estimated number of hours the app should be completed in. When you multiply it by the development rate per hour, that's the cost of your on-demand delivery app.
Another method you can use is to hire a company or an individual to create the app at a fixed cost. You pay them a fixed amount and the company or that individual is bound to deliver you a fully-working on-demand delivery app within a decided period.
On-demand App Flow
So, how does the On-demand app flow like? How does the app flow when you tap the "Place Order" button to the time when you get your order delivered at your home? We will see how the order takes place and how the app flows for an order.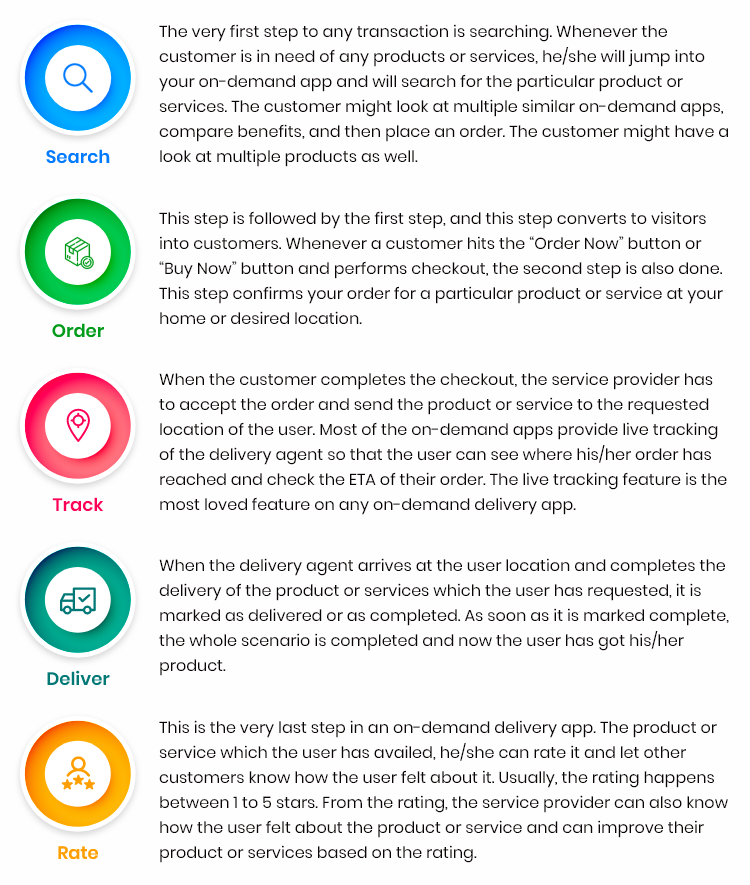 So, this is how a normal transaction is completed on an on-demand delivery app. We hope you caught the flow and were able to grasp the flow of the on-demand delivery app.
Final Words
So, after knowing the possible on-demand delivery app ideas and its cost, you can start serving your customers with your products and services. The best thing about the on-demand services is that the customers get the ordered products or services within a short time. Typical food delivery is completed in around 30 minutes, which is quite faster than you going out to a restaurant and ordering the food and it arrives.
If you are looking to develop such an on-demand delivery app, then hire the best Mobile App Developers now to create your app and start serving your customers on-the-go. INEXTURE is the best Mobile App Development Company to hire On-demand app developers for your business. Contact us or drop an email on sales@inexture.com to schedule a free consulting session to discuss your on-demand app development project.