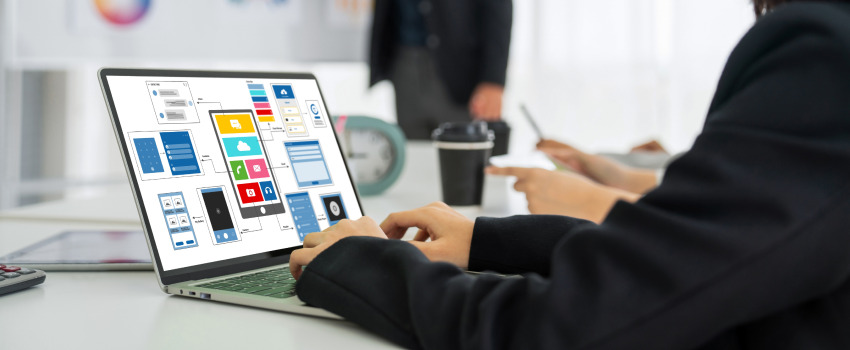 Mobiles and tablets are the devices that are being used in our daily lives and are used to enhance the ease of our daily activities. It happens because there is an app that carries out every aspect of our daily schedule. Enterprise mobile application development refers to designing mobile apps by which it can be used in a business environment. It is developed to combine with some other tools to run a company's daily operations.
Mobile phones have become a must-have gadget these days to live our lives flexibly. Smartphones have becomes a necessity whether to contact someone, schedule an appointment with doctors, lawyers, or even booking a barber slot. Food ordering is also made possible with Food Ordering Apps. So, Mobile Application Development has become an inseparable element to run any business.
Any business chooses to go digital, then it can attract more customers and earn more business revenue. A restaurant owner can double the business by accepting food orders on mobile applications. Likewise, any other business can increase their revenue and profits by developing a mobile application for their business.
Moreover, Enterprises are also opting for Mobile App and choosing the Enterprise App Development to survive their business in this digital era. With Enterprise Application Development, Enterprises are seeing a better result and increasing their business and customer experience. So, it is always beneficial for you to develop a Mobile Application for your Enterprise.
But How exactly the enterprise applications will help the Enterprises?
Here are some facts about Mobile Application Development.
1) Mobile phones getting smarter
Do you know what the basic function of a phone is? Simply, to make calls. With the connectivity of the network and computing, mobile phones are getting smarter. Its functionality is not limited just to make calls. It can do almost everything for you apart from making calls. You can make calls, click pictures, order stuff, order food, and possibly can do almost everything from the smartphone.
2) Prioritizing the user experience–
The mobile app aims to satisfy end-user. And to serve that, all you need to do is to provide a great user experience. Good user experience is the key to attract more visitors and convert them to customers. So, the better your user experience the more users will like and use your application. There are several designing factors you should consider while designing your app that will help you design your app in such a way that it increases user experience as well as give more exposure to your business.
3) BYOD trend must be respected-
Enterprises have been working remotely in the house as well as field staff and also it required mobility as well as flexibility. You can cover everyone in an enterprise. So, every mobile user has a different operating system that differs from user to user and device to device.
Some users use many Android devices; some use desktops or laptops so that to access the same enterprise database, this phenomenon is known as BYOD, which means Bring Your Own Devices. BYOD makes the mobile application development with the compatible challenge.
4) Mobile computing technology advancement
As everyone knows mobile technology is constantly changing because of the advancement of mobile phones and its frequent updates. There is a very huge transformation in functionality and user experience that you can see in your daily lives. Currently, you can find app developers that can weave Artificial Intelligence with your application for the enhancement of your business through the mobile application. So, you can use Machine Learning and Artificial Intelligence to make smarter decisions for your business and improve it like a pro!
5) Security
Every business data is very much sensitive to both personal and business security. For example, a group of employees working in the field is accessing the apps. So, all of their data will be with employers and the employer cannot afford to lose all these data or can't let it misuse by a hacker or any such people. But, when you choose Enterprise Application Development, you choose Security! Enterprise Mobile Applications come with extra security and are based on strong and robust technologies. For example, Java-based Liferay Framework is the best technology to opt for when choosing Enterprise Application Development. As it is Java-based, there is nothing to worry about its security.
So, these are the five facts you should know about the Enterprise Mobile Application Development. We hope this blog sheds some light and helped you increase your knowledge of Enterprise Application Development. If you are looking for any Enterprise Application Developers, then we are here for your help. Just contact us or drop an email on sales@inexture.com and we will be more than glad to help you with your Enterprise Application Development project and help you manifold your business with Enterprise Application Development.