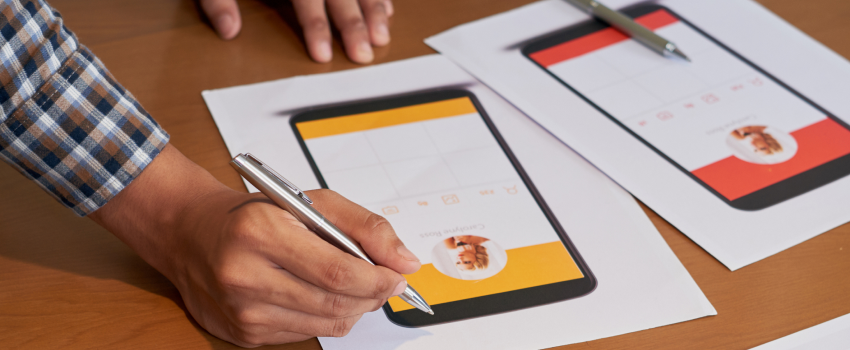 How long has it been since you last used an app on your phone? We are pretty sure, not much time. With the outbreak of smartphones in the current generation, mobile applications have become the easiest way to reach out to customers. They act as a medium to promote your business products and services in a cost-effective and extremely productive way. A simple and intuitive mobile application can bring a significant difference to your business. That is why it is a must to have an application for your business in today's time.
A good mobile application should offer its users a clean and user-friendly package with an engaging and enjoyable application usage experience. There are countless mobile app development services available today that expertise in developing profitable top-quality apps for all kinds of business verticals. Before exploring them, let us first glance at some of the essential reasons for your business to have its mobile application. Let us begin!
Why Businesses Are Shifting Towards Mobile Applications?
There was a time when brands would pay any price to find themselves the best store locations and traffic spots in the best shopping malls and marketplaces of the city. However, this culture is now slowly fading away due to the expeditious surge in the world of mobile applications. A large segment of people now prefers shopping on their smartphones rather than spending hours in shopping malls.
Furthermore, with the occurrence of the Covid-19 pandemic, the trends changed more drastically. The shopping behavior of the customers has transitioned substantially, moving them more towards mobile application shopping. A report by eMarketer suggests that 90% of the time spent by people on the internet is on mobile applications. Hence, it is a great time for businesses to build their own apps and leverage their benefits for their business.
Take a look at the few reasons that propounds businesses to have their own mobile apps: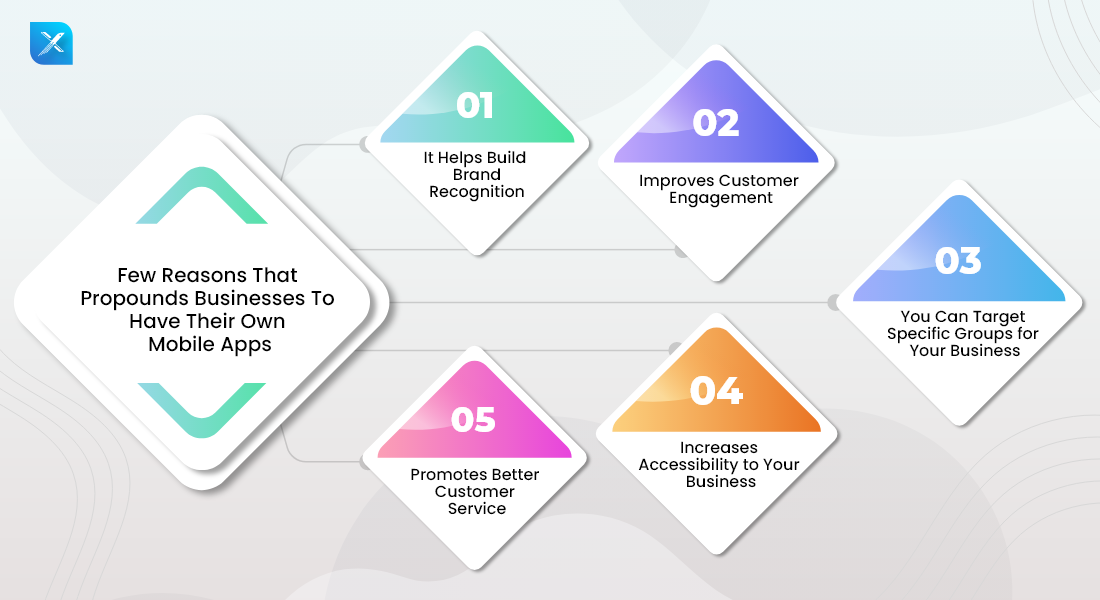 It Helps Build Brand Recognition
Mobile applications greatly contribute to your brand awareness. Let's break down brand recognition into two aspects:
Brand: Your mobile application gets designed from scratch when you hire mobile app developer. A developer can make your app stylish, functional, informative, etc., as you like. However, you must instruct the mobile app developer to design such an app that comprises useful and entertaining features for the customers along with your brand stamp that reminds people of your brand every time they use the app.
Recognition: For higher recognition of your brand, it is imperative for you to design an app that customers love opening time and again. Only when the customers get fully involved with your app, will they be inclined to use and buy products from your brand.
Improves Customer Engagement
Customer communication is one of the key aspects of growth in businesses. Engaging the customer is crucial for your business to become more recognizable among the masses. Mobile applications are a great way to enhance customer engagement.
Unlike phone calls and messages, which most customers find annoying, you can engage in communication through your app. An app provides a significantly easier way for the customer to buy your product or service.
You Can Target Specific Groups for Your Business
Mobile applications have come a long way now. Features such as geo-targeting, location-based suggestions, etc., help the apps to target specific consumers for their businesses. These features leverage the push notifications to offer promotional schemes to consumers who are located nearby the brand's store.
Besides, application markets categorize the apps as per their niches which helps you get the attention of people who are interested in your services.
Increases Accessibility to Your Business
Mobile applications provide a great way to access your brand. All the app user has to do is, open their phone and click on your app and they are there in your store. For years, businesses relied on enticing the customers through boardings and paper leaves to visit their store.
Mobile apps offer a great opportunity for businesses to make consumers reach out to their store effortlessly through phones and give them offers to become customers of their brand.
Promotes Better Customer Service
Today's customers want quick solutions to their problems and queries. A mobile application is a decent way of providing them with a swift solution to their queries. Unlike helpdesks and website customer care, mobile apps reduce the delays of customers reaching a brand executive and solving their problems. This propagates better service for the customer which invariably helps build trust and loyalty for the brand in the customer's eyes.
Top 5 Reasons Why Your Business Must Have a Mobile Application

There is no doubt that people spend a considerable time of their day on their phones. When that is the case, businesses should leverage this opportunity to market their apps on customers' phones that can help in the optimal growth of their business. Let us look at some fundamental reasons why it is essential to have an app for your business: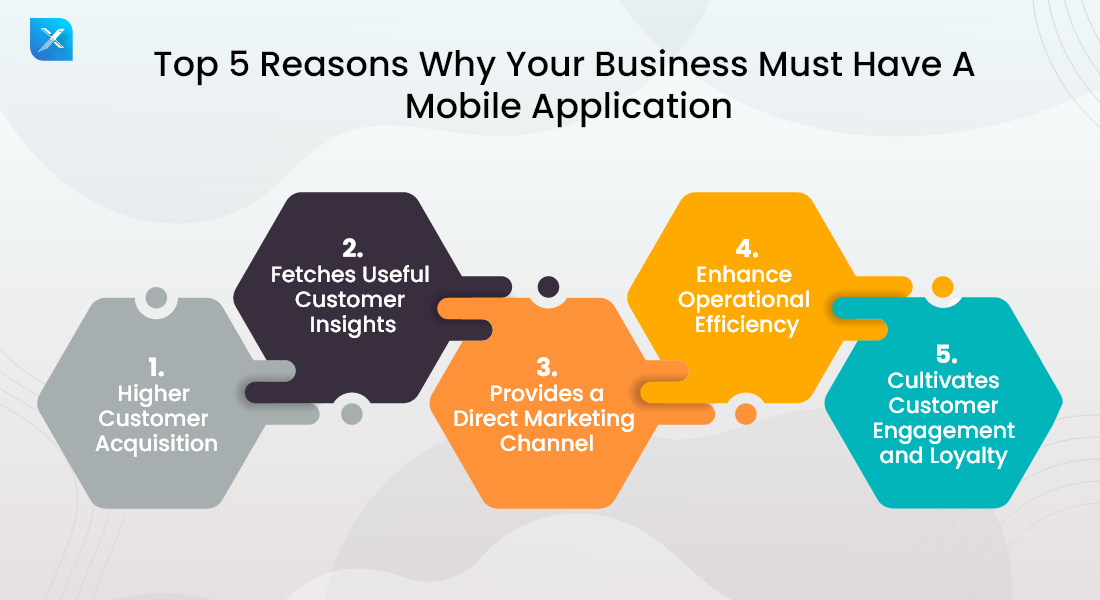 Higher Customer Acquisition
The best thing about mobile apps is that they are not limited to a specific destination. They have a possibility to reach around the world. Therefore, a well-built mobile application by a good mobile app development company can elevate your business to heights that you have never imagined. Once the app finds little prominence, the customer acquisition rate also starts escalating, bringing success to the business.
Fetches Useful Customer Insights
Unlike traditional shopping ways, mobile shopping generates loads of customer data based on their search preferences and online behavior. An app records all the customer data and generates insights that can be extremely helpful for the business using several algorithms. You can analyze which customer likes what types of products or services and accordingly offer them related services with discounts and promotions.
Provides a Direct Marketing Channel
Marketing is always considered a key aspect of a business as it has the power to attract and pull a stream of customers. A mobile application apart from its functionality can be utilized as a great marketing channel to promote your brand services and products.
By advertising on the app and providing information on prices, bookings, features, etc., of the products, you can captivate the attention of a large number of prospective customers.
Enhance Operational Efficiency
There is much more to mobile applications than just targeting customers to increase sales. Mobile applications can be used by businesses to streamline their workflows and operations. There are several mobile app development services that build apps for the in-house operations of businesses. These apps help optimize the operations of the business and provide easy communications within the staff.
Cultivates Customer Engagement and Loyalty
Mobile applications can help consumers engage with your brand more often than any other medium. Once customers have downloaded your app on their phone, they will surely open the app to see what the app has to offer.
If you have hired an expert mobile app developer that has designed your app for engagement, intuitiveness, and entertainment, customers will definitely make their way back to the app a couple of times a day. The more they will use your app, the more loyal they will become to your brand and will buy services and products that will help you grow further.
Essential Features to Make Your Mobile Application Successful
Hiring dedicated mobile app developers and building an app for your business is not the only thing required to make your app successful. To outlast the competition in your market, your app must have the given features to have an exciting and valuable user experience. Let us consider a few of those pointers:
The

mobile app developer must

build an interactive user interface that is simple to navigate. 

The app must have a seamless and streamlined checkout experience.

Your app should offer multiple payment gateways for the users. 

Push notifications and messages are a must for any business application to keep customers engaged.  

The app should have customer referral and loyalty functionality for better customer acquisition and retention. 
Conclusion
Mobile applications are not a luxury but a necessity for modern-day businesses. The faster you dip your business in this ocean, the better results you can acquire. A mobile application serves as an excellent way of presenting your business to the current generations and holds the potential to take your business to the next level. You may hire dedicated mobile app developers from our Inexture mobile app development company to flag off your digital journey.