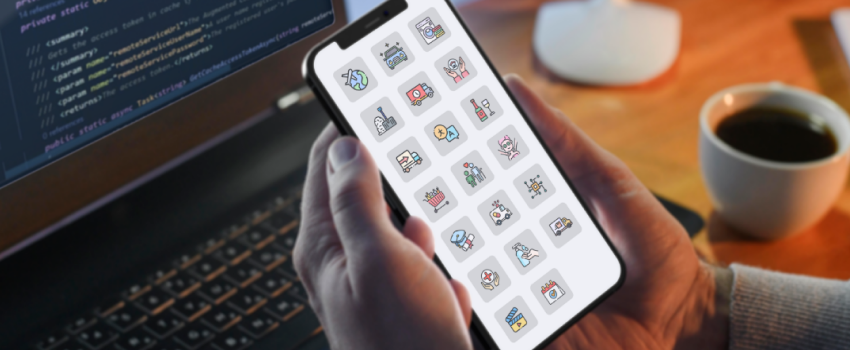 Pandemic has hit hard the year 2020 globally. Many businesses and enterprises, especially startups and SMEs came on the verge of shut down amid chaos and lockdowns. However, on-demand apps have shown a ray of hope in this troubled time. The pandemic has made entrepreneurs think of new and innovative ways to thrive.
Smart decisions and an innovative approach can open the doors to new business opportunities. Many unexpected business models shot to success overnight in this pandemic because of these two factors. Though the world economy is in the doldrums, mobile app development services can take your business to a new level with on-demand app solutions.
We are going to dig deep into twenty innovative on-demand app development ideas that can drive your startup toward success in a relatively short time. It can be proven a secret tool for your enterprise, and you can write a success story with its help. Before moving to these ideas, we will see how on-demand apps work and their types. Let's start with the introduction of this, one of the most popular concepts in the world.
On-demand Delivery Model- Past and Present
Whether you want to book a cab or order food, schedule a doctor's appointment, or order groceries- all these services fall under the category of on-demand services. Customers can order any services or products using their smartphones from anywhere using on-demand apps. This is a reason why on-demand app development services gain ground swiftly worldwide. Startups and SMEs should take advantage of this trend.
The concept of on-demand service is not new but it becomes more advanced in this mobile-driven world. For example, we used to give orders or book the table in the restaurants using landline phones some years back. Today, a reputed on-demand app development company can build an advanced app with user-friendly features for the same purpose. On-demand apps are highly convenient and save a lot of time for customers.
On-demand app development can cover almost all services and products. It is fair to mention that if you have an idea for offering on-demand services, you can get an app for the same. On-demand app development services have nothing to do with business models or industry sectors because the basic flow of every on-demand app remains quite similar. You may wonder- how on-demand service apps actually work. Read on to get your answer.
How On-demand Apps Work
On-demand delivery apps or on-demand service apps cover all major industry sectors. Real estate app development services can assist realtors to provide on-demand visits of properties and other services. Education app development can assist schools and universities to provide on-demand services to students. These days, various fitness clubs and gyms have come up with on-demand apps to provide their services to members online.
App users can place requests for services or products on the app and the app acts as a bridge between the users and a service provider. The service provider accepts the request and payment. The provider then delivers the requested service or products to the user and the user can confirm the delivery. On-demand apps also enable users to give ratings and reviews for the service provider, which can be useful for other app users.
As per the report, on-demand service users spend over USD 57 billion on an average every year. In the pandemic and post-pandemic ages, we can certainly expect that on-demand services will remain in demand for a long time. Here are the types of on-demand services. You can consult a reputed mobile app development company to make an app as per your business model and the types of services you provide.
Types of On-demand Services
The basic functionality of on-demand services is similar for all the industries, but the difference remains in the type and relations of stakeholders. Here are three major types of on-demand services.
B2C (Business to Customer)
It is the most common type in the on-demand service economy. Here, companies or businesses directly sell their products or services to customers. Amazon, Walmart, are some of the most popular names of B2C on-demand apps.
B2B (Business to Business)
Some businesses provide their services exclusively to other organizations. This type ensures a consistent flow of orders and long-term clients, providing your company can offer seamless services. Transportation and hiring service providers include in this category.
C2C (Customer to Customer)
This model is a commission-based model in which people or customers use the app platform to buy or sell their services to other customers. As a result, the company or a platform provider can get the commission from both sides. OLX and Uber are big examples of C2C apps.
Some startup owners argue that on-demand app development cost is high and beyond their budget. But, it is possible to come up with basic on-demand apps in the beginning, and as the business grows, the app can be made more advanced by taking the help of an on-demand app development company. Let's have a look at the top 20 on-demand app ideas for startups and SMEs to grow their business and get high ROI.
Top Twenty On-demand Service App Ideas to Rule the Market
Here is our list of the most popular on-demand services. You can find the right one from it to make a million or billion-dollar business model.
1. Tour and Travel Guide
Travel restrictions have significantly increased the difficulties of tourists. You can come to their rescue by offering on-demand travel guidance. As a travel planner, you can create an entire traveling plan for your customers. It includes how to get to the location, where they should stay, sightseeing, and getting memorable experiences from the trip. The on-demand tour guide can enable your customers to get your assistance online for places, food, and everything in between.
2. Dry Car Wash
A unique water-based chemical is useful for cleaning cars without using much water. It helps to remove all kinds of dirt and waste from the surfaces without any damage. You can offer this dry car wash service to people who have no time to visit the car wash store. This on-demand service enables them to get their cars cleaned at their home or office. On-demand dry car wash service can be the best option for conventional care washing services.
3. Laundry On-demand


Washio, Rinse, and Cleanly are some of the popular on-demand laundry service apps. Laundry on-demand services include a pickup for the customer's dirty laundry and get it washed, ironed, and folded before delivering to the customer's doorstep. Whether you own a laundromat or plan to buy one, these can be lucrative services for your business. You can also partner with existing laundromats to get commissions for offering a digital platform.
4. Lawn and Snow Plowing
Uber for Lawn care app assists you to provide lawn cleaning services. You need the right team of professionals with modern equipment. Lawn care and snow plowing services are useful in different seasons and you can make a big brand eventually by combining these services. You can get contracts from offices, malls, and public places along with the individual's houses.
5. Uber for Trucks
Uber for trucking and transportation app is beneficial if you have high experience in the transportation industry or own a fleet. As one of the biggest industry sectors, transportation connects almost all other sectors. An on-demand transport service app enables you to offer interstate or intrastate trucking services. It is better to consider the business scope and marketing plan before opting for a trucking app development.
6. Home care Services
Carpenter, plumber, electrician- you can bring all these people together in a home care service delivery app. It is useful to address a huge audience in your area because now and then people need these services for their houses.
7. Drop-shipping Platform
The drop-shipping model enables merchants to get rid of making stocks for any products. They can simply forward the order to the vendor and get it delivered to the end user's doorstep. You can connect to customers and vendors through a robust drop-shipping platform and make a business model that involves product delivery without storing them. Alternatively, you can also think of developing an on-demand
8. Translation and Proofreading
If you have translation and proofreading skills, you can opt for this service. It is the cheapest business idea and needs knowledge of multiple languages, computers, and software. Another service in this domain is a transcription service that is useful for providing subtitles for the video in different languages. Almost all video creators need this service for their content these days to ensure flawless subtitles. You can also create a website portal for multilingual experts who want to offer their services to people, brands, and enterprises.
9. Liquor Delivery
An on-demand liquor delivery app enables people to order their favorite alcoholic beverages. You can get online payment for every order through an app and send the liquor to your customers' doorstep. Parties and social gatherings will require alcoholic beverages, and your liquor delivery business can remain handy for it.
Unlike traditional liquor stores that sell alcohol within their premises, on-demand liquor delivery services have a vast scope, and you can grab many business opportunities over the period.
10. Food and Grocery Delivery


This is one of the most lucrative on-demand service ideas in this pandemic age. Though big players like Walmart, Grubhub, Uber Eats, and Grofers have already written their success stories, the food and grocery delivery domain has a lot of potential for startups. A food delivery app development company can assist small restaurant chains or even single restaurants to launch their dedicated apps and grow their business.
Even grocery store owners can bring apps for existing and new customers for enhancing convenience and expanding business. You can leverage the benefits from the great demand for food and grocery delivery app.
11. Babies and Elderly Sitting
Babysitting and elderly sitting have one thing in common: both require good care and at times, make people a bit tired. You can establish a group or a company to offer these services to the working class.
You can either hire or register caregivers after checking their background. Furthermore, you can add pet care services to your app after some years. If all three services are available, it can be a huge brand in the care services domain.
12. Parlor and Massage Services
Beauty parlors and massage centers hit hard in this pandemic age. However, you can offer on-demand parlor and massage services through an on-demand beauty service app. From a quick hair trim to a facial and a hot massage to a makeover- a parlor and massage app can take orders of all services.
Whether you own a salon or plan to start a salon business, an on-demand app is your way to begin. You can easily connect to your target audience and bring other beauticians together on this digital, mobile platform.
13. Tutors and Trainers
Online education and on-demand training are buzzwords in this turbulent time. You can take the assistance of an education app development company to bring an app for online coaching and training for competitive exams. You can also think of building a platform for tutors and training professionals to address a huge audience consists of schools, universities, and even corporate houses.
14. Medicines Delivery
Just like food and grocery delivery, the market for medical products delivery is gradually increasing. People who are in need of purchasing and refilling medicines, asthma pumps, medicinal cannabis products, testing kits, and other medical products can leverage the benefits of medical products' delivery apps. Though this service is different from other delivery services, you can get a good ROI from this model over the period.
15. Electronics Technician
Electronic devices are around us. These days, our ecosystem is interconnected with connected devices, and we will witness a rise in this trend in the coming years. Be it a smartphone or a laptop, every device needs some maintenance and, at times, repairing. You can provide these services on-demand using a customer-friendly app. It can act as a platform to connect technicians with people who are in need of repairing or maintaining their smart devices.
16. Healthcare at Doorstep
Doctor-on-demand and healthcare on-demand services are here to stay. In pandemic and post-pandemic years, healthcare services will play a vital role in ensuring people's good health and well-being. These days, visiting hospitals can be risky for patients as they may be hot spots for the virus. There, healthcare on-demand apps remain handy.
Concepts like mHealth and telemedicine can be easily implemented with the help of healthcare app development services. With on-demand apps, healthcare providers can offer 24/7 assistance using smartphones. Basic diagnosis and guidance are possible through an app and patients can pay online for a consultation.
17. Sanitizing and Cleaning
This is another important service that has gained ground swiftly across the world. Sanitization and cleanliness are the most powerful weapons in the battle against coronavirus. You can offer sanitizing and cleaning services on-demand through an app. A mobile app development company can assist you to bring an app in which people can register their requirements and select their convenient time slots.
18. Movers and Packers


Changing houses or offices remains a herculean task for people, especially during this pandemic age. Reliable movers and packers who give end-to-end services are proven to be useful in such a situation. You can be a movers and shakers service provider to make good money even in the post-pandemic age with the help of apps and efficient employees.
You can get a well-connected client that can suggest your service to their circle and your business can grow gradually. All you need to give excellent services in a particular niche like warehousing, domestic shifting, car transportation, fragile items shifting, etc.
19. Entertainment On-demand
How about becoming the next Netflix, Amazon Prime, or Disney+? All these OTT platforms have witnessed a huge surge in membership in this couple of years. The reason for it was people had a lot of free time during lockdowns.
You can also come up with an OTT platform for new talent and make a new line of shows to watch instead of popular shows and movies. Gradually, you can also make a team of creators who can make visual creations exclusive for your platform and target audiences.
20. Event Management
These days, managing events is challenging due to social distancing and other norms. As a result, we witness a rise in digital or online events. However, such online events have their challenges as well. You can offer event management services for both physical and digital events. A reputed On-demand app development company can make an app as per your business needs and organizers' expectations.
Along with this, if you own a gym or a fitness club, you can consider taking assistance from a fitness app development company to bring a workout app for your customers. Similarly, if you are in the real estate business, a real estate app development company facilitates you to build a customized real estate apps for brokers and prospective customers.
Concluding Lines
These days, on-demand services have gone beyond retail and eCommerce mobile app development. The rapidly growing on-demand economy offers many opportunities to enthusiastic entrepreneurs. You can use any of these on-demand service to initiate a startup and get a high ROI in the relatively short term. The time is just right to consider on-demand services and expand the horizons of your business!
Inexture Solutions  is a renowned mobile app development company. Our in-house team of developers can integrate advanced features based on advancements of emerging technologies including AI and ML. Simply drop us a line at sales@inexture.com and our expert business consultants will assist you at every step from making a strategy to execute your app development project.