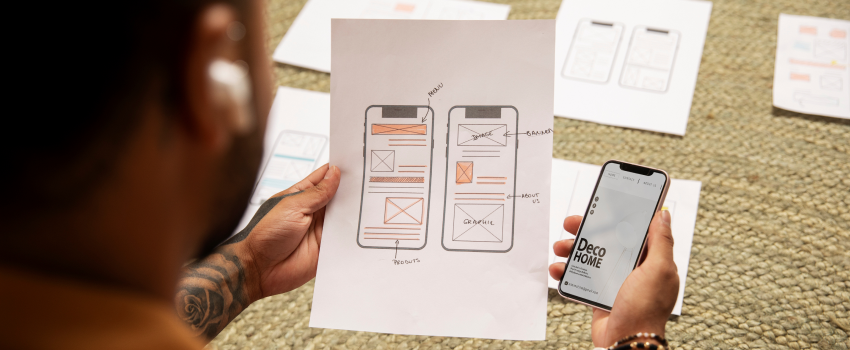 Introduction
When you decide to create an app for your startup company or your established business, the first question that knocks your mind is – how to hire a dedicated mobile app developer. This article provides complete coverage on the areas covered under this query of yours. Post this read, you will be able to hire mobile app developers who will provide you with viable app development solutions. So, let's begin.
Options to Choose from When Hiring Mobile App Developers

In-house Team
Having an in-house team of mobile developers is always the first choice of the business. The in-house team comprises a team of 5-7 development wizards. This team has a project manager, quality assurance engineer, iOS and Android mobile app developers, UZ/UI designer, and also backend developers. The in-house app development team can completely be supervised and controlled by the company management. But the downside of an in-house team is that it consumes additional office space, equipment cost, additional HR procedures, and needs extra development work.
Local Boutique Company
The local boutique is another way one can cost-effectively hire an application developer. Although the cost of hiring an app developer via a local boutique company is cheaper than other options, it still requires a worthy amount of investment. In the US, the average cost of local boutique hire is $100-$150 per hour per specialist. This means that if over one app developer is involved, the cost will multiply accordingly.
Hire on a Freelance Site
Another most popular alternative when you decide to hire dedicated mobile app developers is through freelance websites like Upwork, Freelancer.com, Fiverr, etc. Availability of development services at the cheapest price is the only plus point of this hiring option. Therefore, it is advisable to hire an application developer from a freelance website only when your requirement is small or short-term. Shortlist the developer based on the review of previous clients and his technical expertise or credentials. Apart from this, you need to keep in mind the following points when you hire mobile app developers from freelance websites.
Freelancers don't provide turnkey app solutions.

Freelancers don't follow app development methodologies or tools.

Freelancers are not bothered about your project deadlines.

Last, if the result delivered by the freelancer is not satisfactory, the entire process needs to be reworked.
Body Shop Companies
Body shop app development companies are the new buds in the market. The increasing demand for mobile app developers has resulted in the birth of these companies. Their employees are novel graduates or amateurs. This also means that the end product of such companies might be of deplorable code quality.
Dedicated Mobile App Development Agencies
Last but not least, there are dedicated development agencies like Inexture. These full-fledged agencies follow a structured approach towards app development with proper support and maintenance. The teams of such agencies are well integrated and there is no scarcity of any resource. These agencies have a strong portfolio and credentials to attract more clients. They never stake their reputation, clients, or brand name by executing any low-quality task.
Key Considerations Before you Hire Mobile App Developers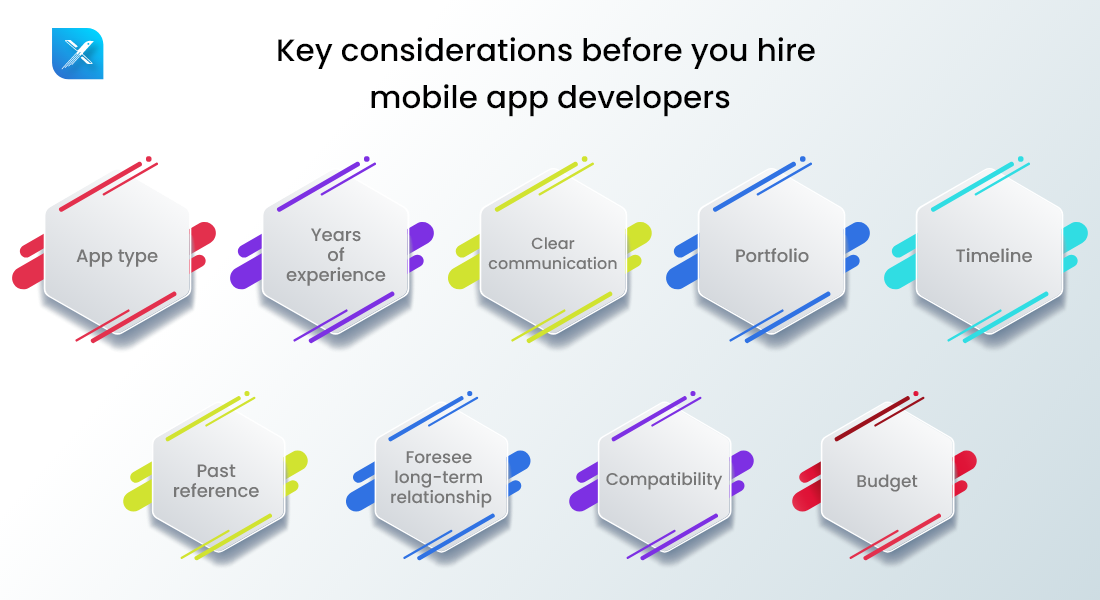 App Type
You need to be clear about the type of app you wish to get developed. Is the app just a virtual face of your traditional business or is it a completely new startup? Is it a basic application or a complex one? What is its category? Answers to all these questions is essential to filter and let you
hire dedicated mobile app developers
.
Years of Experience
Depending on the type of application, you need to understand the level of technical expertise required for the product. For complex applications, hire a mobile app developer who has a good background score and a high level of expertise.
Clear Communication
Sitting across nations, you can always outsource the app development services from offshore developers. Therefore, if you plan to hire app developers in the USA, you need to first have a chat, phone call, email, or virtual meet with the potential vendor. Communication is essential to clear all the doubts from both ends.
Portfolio
Have a detailed study of the prospective app developer. There are so many kinds of application developers, as discussed above. But everyone has their share of pros and cons. Do check if the service provider fulfills the claims mentioned by them or not.
Timeline
Get a fair idea about the final turnaround time or deadline by which the final output can be received.
Past Reference
Check for the testimonials or feedback section on the webpage of the service provider. Good work attracts favorable remarks from clients. Such testimonials, therefore, serve as fishing bait to attract new customers.
Foresee Long-term Relationship
Ensure that the chosen service provider takes care of all the bugs and fixes them wherever there is a bug concern post-application development. If needed, some features are to be added post the launch. For this reason, it is suggested to have a long-term relationship between the service provider and taker.
Compatibility
You, as a client of an app development company, should be compatible with the working hours, time zone, language, and communication tools of the agency.
Budget
Get clarity on the charges and payment process before initiating the work. Discuss how the bill is raised and the flexibility of payment.
The Process to Hire Dedicated Mobile App Developers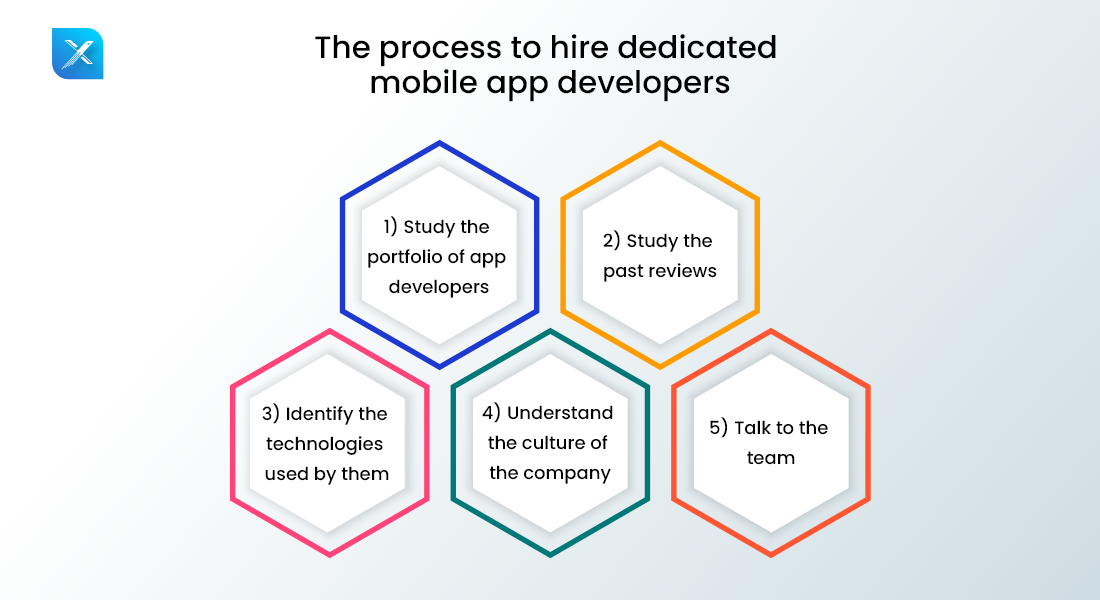 Study the portfolio of app developers

Don't risk your dream app development with the amateurs or newbies from college. Make a complete study of the past record of the developers and analyze their portfolios carefully. Have an overview of their past work performance. A simple go-through of their website suffices to cover up this initial step.

Study the past reviews

The experience of previous clients is an essential factor while selecting an app developer for your work. This fact is known by the service providers, too. For this reason, they have fake testimonials on their site to impress the onlookers. So beware and choose wisely.

Identify the technologies used by them

While selecting the mobile app developer, you should have a clear picture of their app development process. Understand their framework, methodologies, approach, design and development guidelines, and project manager too. Learn how they fix the bugs and resolve the issues post-development.

Understand the culture of the company

You are about to partner with the company that will shape the virtual face of your brand. Therefore, you need to clearly understand the service provider's company culture. Have a look at their social media pages and their website. Check if the company has a local team of developers, with whom you can contact physically if needed. Identify their technical expertise, areas of specialization, and years of experience.

Talk to the Team

You are about to partner with the company that will shape the virtual face of your brand. Therefore, you need to clearly understand the service provider's company culture. Have a look at their social media pages and their website. Check if the company has a local team of developers, with whom you can contact physically if needed. Identify their technical expertise, areas of specialization, and years of experience.
Hiring an iOS developer
If you are looking forward to creating an iOS app, your app developer should be a pro at working with Swift and Objective-C. He should well know:
OOP principles, SOLID

iOS SDK (software development kit) and UI kit

Multi-threading, networking, geolocation, APNS, Apple purchase, and Core Data

GIT version control system (VCS)

Swift testing tools
The charges of iOS developers are around $80,000/year and above $120,000 in the EU and the US, respectively. 
Hiring Android developer
Android is a more popular and widely used platform across multiple devices. Android app development is necessary for businesses. Therefore, if you plan to curate an Android app, your developer should be pro in writing consistent, clear, and reusable codes. He should also be proficient in:
Java or Kotlin

Android SDK

APIs

Understanding the back end
Android developers charge approximately $130,000 per year. 
Hiring Cross-platform developer
Cross-platform developers are proficient with the details and requirements of both Android iOS applications. These developers possess the following expertise:
Experience in Android and/or iOS development

Experience with tools of both Android and iOS
Final words
Hiring a dedicated software development agency is much more helpful than all other means of outsourcing app development services. Mobile App Development Companies work from scratch in the most customized manner, to deliver a unique subjective solution to their every client. A careful approach towards the hiring process, while adhering to the list of key considerations, is sufficient to help you filter the most appropriate app developer for your business. Contact us and share your app development requirements. We promise to serve you the best.