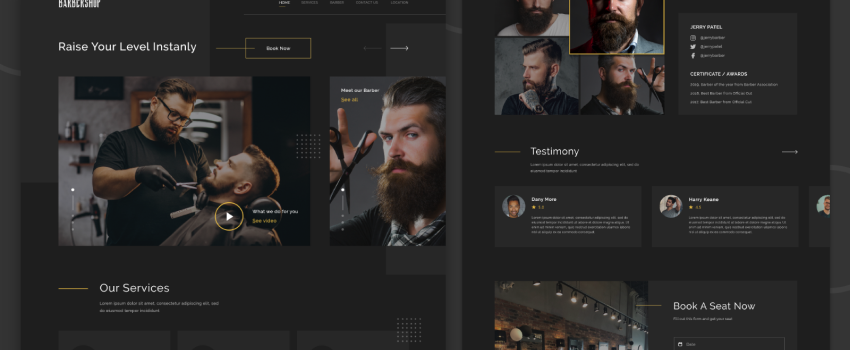 As time passes people are becoming more and more beauty conscious! They frequently visit the salon for a grooming session or visit a spa for peace of mind and body. But, as more people are visiting salons and spa, those places are becoming more and more crowded, and hence people have to wait, and that's what they don't like! To overcome this waiting issue, many salons are maintaining a mobile application that allows their customers to book the appointment as per their convenience and avoid the waiting time!
There are a lot of companies that provide on-demand app development services and salons are getting their beauty salon app and serving their customer the ease of availing their services, right from their smartphones. Such Beauty Salon App Development can be beneficial at a huge level, as it gives a lot of benefits!
So, if you are a beauty salon owner, and do not have a mobile app for your business yet, then it's time to think over it and get a mobile app developed for your salon. Not only it will help you manage the appointments, but it will also create a brand value that sticks into the customers' minds and leaves a great impression of your business!
If you want to give your customers an experience to remember, then try serving them with a mobile app that can schedule an appointment for them at your salon and save their time. Here's what your customers will get while using your salon app:
Smooth Browsing Experience
If you are offering a range of services at your salon, then you can list down all those services in your mobile app, and give your customers a smooth and seamless browsing experience where they can see all of your services and beauty packages and its details.
Appointment Reminders
The customers may easily forget the appointment they have set at your salon, but through the mobile app, you can easily send them a notification for an upcoming appointment at your salon for particular services. Such features leave a great impression on the customers' minds!
Discount and Offer Reminders
You can set some discounts or run special offers for your customers and let them know via push notifications and reminders, so they get to know the discount offers currently available at your salon. Customers love such discount offers, which can boost your sales and appointments!
Time-Saving
The main motive behind developing the app is to save the customers' time. Having an app and allowing them to book an appointment on their convenience is the main benefit for the customers. This way they can save their time by scheduling an appointment and avoid waiting for long in the queue for their turn.
Secure Online Payment
By integrating a secure payment gateway with the app, you can easily accept payments for the appointments scheduled by your customers. They can easily pay from their phones while scheduling the appointment and make secure and hassle-free payments!
So, customers get upon listed benefits when you offer them booking appointments at your salon via a mobile app. Developing a salon app doesn't benefit only your customers, but it has great business advantages as well! Such business advantages are these:
Brand Value
Developing an app for your salon creates a crisp brand value in your customer's sight! This way, the app advertises for your salon itself. You don't need to speak about your salon, your app will speak for your salon and leave a great business impact on your customers!
Increase your business
When you allow the customers to choose their convenient time right from their smartphone, they are sure to love it and spread the positive words among their circle as well! This way more customers will reach your salon and increase your business manifold!
Reach to a larger audience base
Developing an android app development for your salon is a great business move, and by taking this step you can reach a larger audience base, as the words get spread through the words of mouth and reach a larger audience base.
Easy appointment management
Through your salon app, you can easily check your upcoming appointments and approve or disapprove them as per your time availability and convenience, which makes your business management an easy-peasy process.
Analytics Tracking
The salon app development comes with an admin dashboard, from which you can see the overall performance of your business and see the detailed analytics which helps you plan an even better strategy for your business!
So, these benefits can be gained by developing a mobile application for your salon! So, if you are thinking about developing your salon app, then there are 2 types of app development available in the market. One is the readymade app and another is building the app from scratch.
Readymade App
In this option, the base of your app is already developed, you just need to update your business details, logo and other such details and your app is ready to be launched in the market.
You can choose this option if you are running low on budget and time. This option doesn't offer much customization, but you can choose this option if you want to launch your app in a very short period of time.
Build it from scratch
A lot of salon owners prefer to develop their app from scratch. The main benefit of building the app from scratch is that you can build your app as per your requirement and customize it to the core!
This development takes more time as compared to the readymade app, as its design and development start from scratch. And, that requires a lot of exercise, which costs more money and time! So, if you are patient enough and have enough budget to build the app, then you should go with this option!
So, as you may already know that a lot of salon owners are making their moves to mCommerce and getting their salon app development and ripping off the benefits from it! So, why don't you? Get a mobile app for your salon and manifold your salon business!