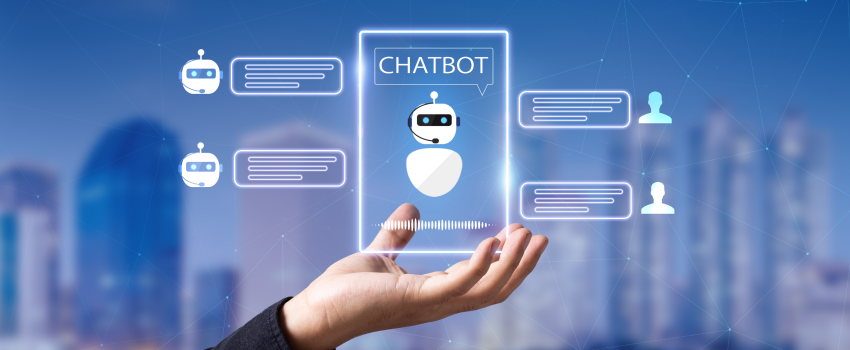 Chatbots, or conversational agents, are integrated into a variety of platforms to automatically respond to incoming messages received by customers. They are also capable to start conversations in a natural human style.
The concept is not new, though. However, organizations will continue to use chatbots more and more in the future.
According to Business Insider, the market for chatbots is anticipated to increase from $2.6 billion in 2019 to $9.4 billion in 2024, with a predicted compound annual growth rate of 29.7%. According to the same survey, the retail and eCommerce sectors would enjoy the fastest growth in the use of chatbots due to the rising desire for seamless customer experiences. Chatbot development with Python is the best and most popular way to get a stronghold of customer queries and complaints.
That should be plenty of evidence to persuade you that chatbots are the future of managing consumer relationships, but they will also develop into internal business tools, and if they haven't already, practically every business will adopt the technology in the upcoming years.
2020 was a year unlike any other; within a few short weeks, everyone's life underwent significant changes. Chatbots were developed to fill the void created when human interaction had to be restricted. Businesses that weren't already using it had to make the switch to digital operations.
Chatbots have been at the heart of the conflict against COVID-19 throughout this process. Chatbots have helped a variety of industries resurrect themselves, from helping healthcare professionals by facilitating improved communication between medical authorities and people to altering shopping. Furthermore, despite some fears, chatbot software development is here to support, not replace, the traditional workforce.
After examining the significance of chatbots, let's talk about their operation.
Benefits of Chatbots for Businesses
When it comes to building strong customer relationships, chatbots can be a very helpful tool. By connecting and engaging with website visitors, your company may use it to create lasting connections. By incorporating chatbots, you can increase customer service and sales in addition to achieving marketing objectives.
Chatbot software development can enhance consumer communication in a variety of ways and promote corporate expansion.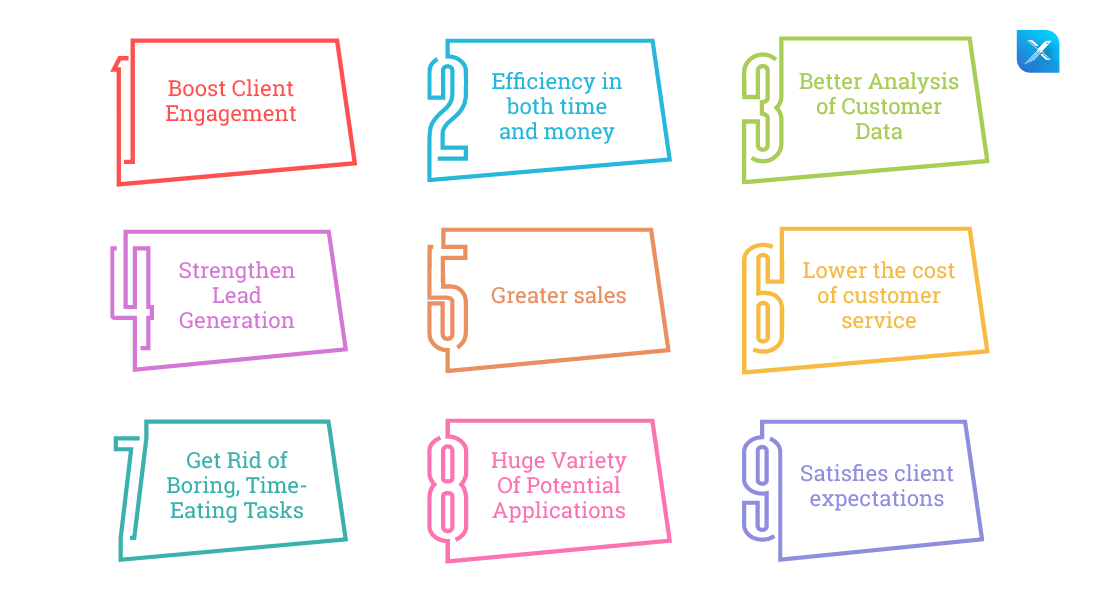 Boost Client Engagement

Strengthen Lead Generation

Lower the cost of customer service

Observe Consumer Data to Gain Understanding

Create a conversational marketing plan

Balance Human Touch with Automation

satisfies client expectations

Achieve Support Scalability

Streamline the Onboarding Process for Customers

Create a customer journey Smoother
Let's go over the advantages of chatbots in more depth. To get these benefits you can hire a chatbot development company as they can help you to get your customized chat app within the time frame.
Boost Client Engagement
Businesses may increase consumer engagement by using chatbots.

By using conversational AI chatbots, engagement may be increased and made more engaging based on user data.

Additionally, since bots may provide regular responses, you can avoid giving clients useless information.

Additionally, customers are more likely to stay on your website longer and continue the dialogue if they receive pertinent and prompt responses.
How to fully utilize the chatbots to increase client engagement
Conversations with a human touch can be driven by chatbots, which are intelligent enough to assess responses based on client information and history.

Real-time reaction – Your company can utilize bots to give clients prompt, real-time responses and keep them from switching to rivals.

Customer expectations for rapid one-on-one responses can be met with a chatbot, which can also improve their experience with your brand.

If you go with

chatbot development services

,

you can get the best guidance and support.
Efficiency in both time and money
The time that employees could spend better-serving clients in other areas would be wasted if they had to respond to every consumer inquiry. According to Harvard Business Review, a live representative engagement costs a B2C company more than $7 and a B2B company more than $12 via phone, web chat, or email.
Combining this with the potential for extended wait periods for users due to agents' inability to handle multiple users' requests at once, as well as the time required for the representative to find the appropriate information from numerous sources, can result in significant overall expenditures.
Additionally, lengthier wait times are bad for the experience of the consumer. According to Juniper Research research, by 2022, chatbots would save businesses save $8 billion yearly. By addressing 80% of ordinary questions and hastening response times, chatbots, according to IBM, can help cut down on customer service costs by 30%. This will free up agents to handle more challenging inquiries. Find a chatbot development company and save your time.
Better Analysis of Customer Data
Businesses can examine how well the chatbot works in line with the desired business outcomes, revenue generated, and in-depth insights on how customers interact with the company and what they are requesting with the use of chatbot analytics.
In addition, chatbots are adaptable and enable businesses to serve their customers practically across all platforms. A chatbot can be easily adopted by many platforms and integrated into your current IT architecture.
Strengthen Lead Generation
The ability to engage customers with individualized messaging throughout their journey is a strength of today's highly evolved bots.
In reality, your company can employ chatbots to help clients make quick decisions by generating leads.
In order to convince the visitors to lead generation and greater conversion rates, AI bots can use a pre-set quiz.
How can chatbots be used to generate leads?
Better lead qualification: By posing pertinent questions and referring leads to the sales team for quick sales conversion, bots qualify leads. If the staff is busy or unavailable, a chatbot designed for appointment booking can assist with scheduling an appointment.
Better lead nurturing — Based on the customer journey, the qualified leads are then nurtured. A chatbot, for instance, might increase sales conversions at an online store by interacting with customers and providing personalized recommendations, package deals, or discount coupons.
Greater sales
Your firm can increase sales by using chatbots. By showcasing your newest products and tempting customers with discounts, bots convert first-time website visitors into new customers.
Additionally, bots actively notify website visitors and aid in accelerating the decision-making process for purchases. These messages may contain information about current offers you are making or corporate news. Additionally, chatbots can assist customers in finding what they're looking for.
One use for this benefit is deploying a retail chatbot to assist with order placement and provide customized product recommendations. Additionally, chatbots can help your visitor progress through the purchasing process by providing support services like delivery tracking.
Lower the cost of customer service
Chatbot implementation is an investment in reducing the cost of customer service.
You can save extra money by investing in chatbots instead of hiring more support staff.
A business can cut costs in a variety of ways with chatbots:
Salaries

Training

Infrastructure
Similarly, using AI chatbots for customer care has various advantages;
Reduce chat availability during peak times.

Automate common business operations

Allow for new customer service paradigms
Additionally, AI bots can be expanded without incurring any additional costs during business peaks.
In addition, bots save a lot of money and improve the bottom line by ensuring that customers have an easier and more flawless brand experience.
Get Rid of Boring, Time-Eating Tasks
Chatbots may replace a lot of the monotonous, repetitive duties that are now carried out by customer service people, which is one of its advantages.
People may find these tasks tedious and draining, but a bot won't ever complain—not even when a consumer becomes irate or aggressive.
Chatbots are human emulators, users should instead consider them as a more effective way to meet client needs.
Huge Variety Of Potential Applications
Chatbots have a variety of uses and are not just confined to the use case of answering consumer questions, which is one of their clear advantages for organizations.
These common use cases for chatbots include
Marketing:

Chatbots can be used for a variety of marketing tasks, such as lead generation, data gathering, heightened personalized engagement, and product consulting.

Sales:

Supports the sales funnel and aids in the qualification of prospects.

Customer service:

Assists in addressing FAQs and provides devoted assistance in the event of issues.
Support is provided for both internal and external service desk applications by the IT service desk.
Satisfies client expectations
Customers anticipate prompt responses to their inquiries or complaints.
As chatbots become more intelligent, businesses can use them to satisfy customer expectations by automating some of the typical interactions.
Customers did not have to wait for human agents to communicate with them thanks to automation, which is one of the chatbot use cases. This will undoubtedly improve their experience with the business and increase retention. By availing of chatbot development services, one can satisfy their clients in less time and the chances of getting loyal customers can increase to a great extent.
Guidelines for utilizing chatbots to satisfy consumer expectations
Proactive Interactions

– Businesses may use bots to communicate with customers in a proactive manner, respond to them quickly, and achieve higher open rates than email.

Personalized Experience

– A chatbot can come in quite helpful when it comes to providing customers with a personalized experience across many touchpoints, as this can affect conversion and sales rates. 

Advance User Targeting

– Effective targeting may be achieved and customer engagement increased by using chatbots to convey visual material and provide information about products, offers, discounts, etc. 
Wrapping up
The speed at which technology is developing nowadays gives businesses numerous chances to sell their brands and improve the consumer experience. One of the most well-known technologies among these developments is a chatbot. 
Chatbots can be used in a variety of sectors and are not sector-specific. Chatbots not only enable cost savings but also guarantee a superior client experience that distinguishes your company from the competition. A chatbot development company can help you to get a chatbot to handle a large customer base at the same time.