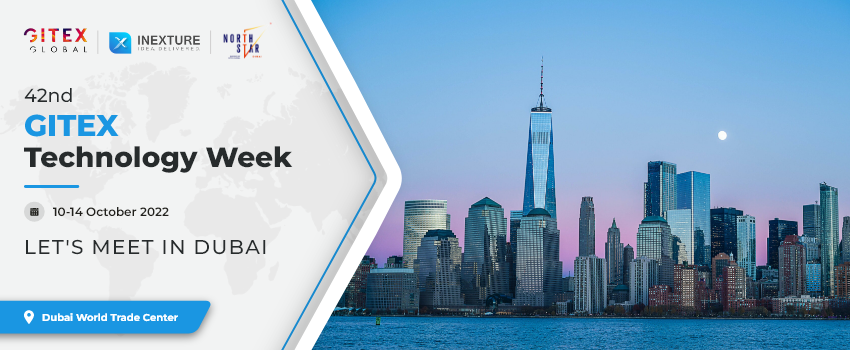 In the technology exhibition GITEX in Dubai, there is a new era of revolution in most advanced technologies like AI, ML, Cloud computing, enterprise smart solutions, and many more.
From October 10 to October 14, Dubai will host a massive technology expo for the region's booming IT industry. Yes, work has begun on the enormous GITEX Technology Week within the Dubai World Trade Center. More than 100,000+ visitors from 170+ nations are anticipated to attend this year's technology exhibition, which will highlight the interdependence of the economy of the mind and that of technology.
In a world that is always changing and interconnected, digitalization is opening up previously inconceivable opportunities. The world's leading innovators in technology will discuss the latest developments in AI and ML, Cloud Computing, Cryptography, 6G, Quantum Computing, Startup Innovations, the Metaverse, and the next frontier in electrical and flying vehicles. The premium program emphasizes the effects of the Web 3.0 economy and corporate interests in a dynamic but challenging global economy.
Inexture is one of the leading Python development companies in the USA and India. We have our expertise in AI, smart enterprise solutions, Python, Java, Nodejs, React, Enterprise Search, Solr, Microservices, Agile development, and many more like these. We are visiting GITEX Technology next month to show our expertise in the above-mentioned areas. 
The Advantages of Attending GITEX Dubai 2022 Business Opportunities & Networking.
Knowledge-Exchange Possibility

Present to international buyers and investors.

empowering businesses with the target market.

Interact and communicate with global tech businesses and organizations.

Possibilities for Lead Generation and Higher ROI
Our most popular IT services include:
Web Design and Development

IoT App Development

AI Integration and app development

Elastic search

Microservices

Agile development

Java Springboot Development

Blockchain Development and more like these
Let's Catch Up!
Let's talk about how growing technology may help you if you want to build your company and broaden your worldwide footprints with high-mobility and IoT solutions! We can meet up outside of GITEX 2022 because we will both be in Dubai from October 10 to October 14. To book your appointment, just click here. We'll see you in Dubai.