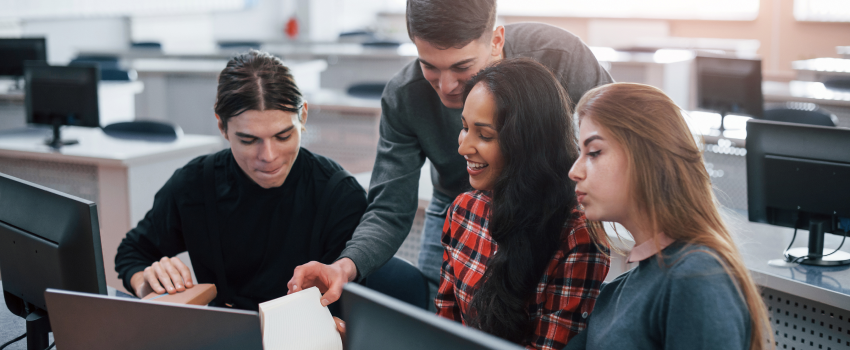 Python is one of the most adopted and favored languages today in the development world. There are many reasons for it, such as simpler coding, easy compilation, a plethora of libraries, and a huge helpful community. These are just some of them; there are many other factors that rank Python at the top.
Some of the world's best websites are made with the help of Python, such as Google, Youtube, Dropbox, Instagram, Spotify, etc. Currently, Python is the third most used programming language in the world, as per Statista. Moreover, there are 1.4 to 4.3 million Python developers in the world. Plus, technologies like AI, Machine Learning, and NLP involve the use of Python to a great extent.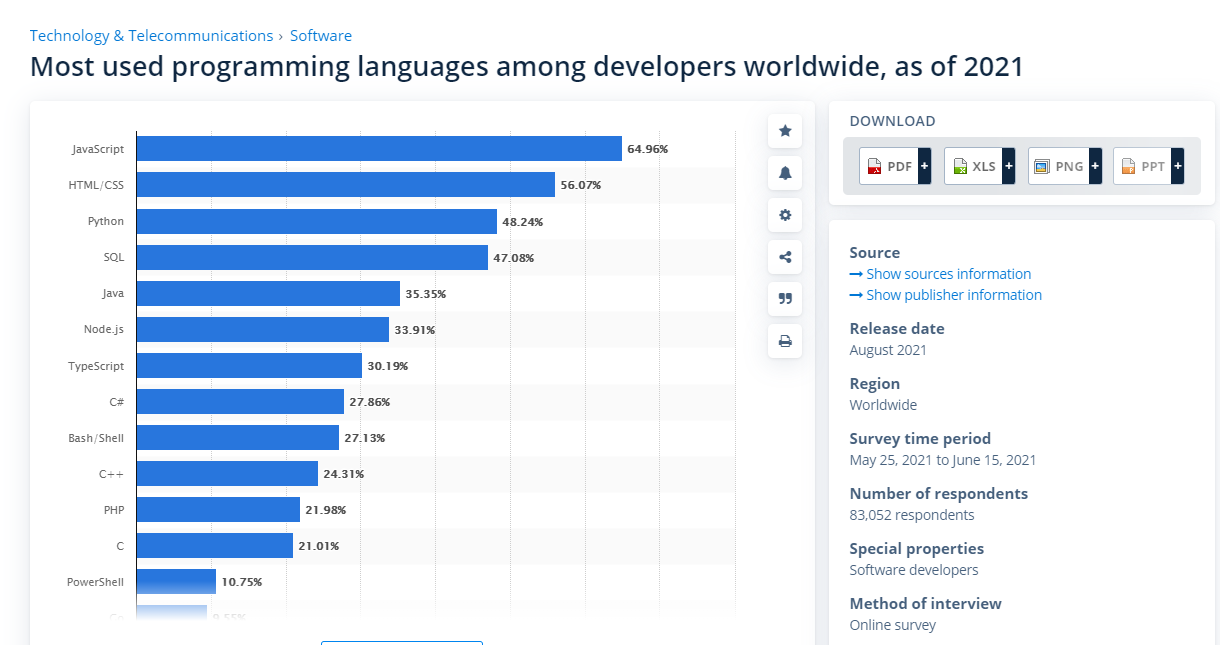 Source: Statista
In short, we can say that Python is taking over the development world. If you are a budding business, it is best to invest in Python development. Though there are countless Python developers out there, it becomes tricky when you have to shortlist a good python web development company or a python app development company.
Therefore, in this write-up, we will help you out in choosing the best python development company! Let's begin!
Why Python?
Before you dive into making a choice among various python development companies, it is necessary to know the benefits and applications of Python so that you can make an informed choice.

Source: Data quest
Python is a high-level, general-purpose language that has countless applications in the modern world. There are various aspects of Python that rank it among the top languages of the world, such as:
It has vast choices of libraries like Numpy, Pandas, Scikit, Matplotlib, etc., which are perfect for data analysis, data visualization, and other complex calculations.
The coding in Python is super easy, i.e., the language uses simple code with an easy to write syntax.
Python has a large online community that helps newbies to learn better and faster.
Python is easy to learn for budding developers.
Other than this, Python is indirectly changing the industrial landscape by backing the automation and IoT sector. Industries can increase their yield by decreasing the involvement of humans. Other than this, sectors like manufacturing and retail can make future decisions based on the data gathered from the past and present. Python can help them by enabling lightning-fast data analysis. 
Apart from this even the demand for Python developers has significantly increased over the years. To get a better idea, have a look at this graph.
How to choose a Python Development Company?
As Python is primarily weaving the industrial fabric, it is the ideal choice for you if you want to take your business online. However, with so many choices out there, it can become a bit tough.
You can think of assembling your in-house team, but it will cost you a lot. Another option is to hire dedicated python developers that are freelancers. In this case, the price will be less, but the quality of work is not guaranteed.
The last option, which is balanced in terms of both price and quality, is hiring a python web development company.
If you do a Google search, you will get a lot of choices of python development companies. Here you need to analyze all the crucial aspects carefully to make the right pick! Here are some of the crucial things that you need to check to choose the ideal python app development company.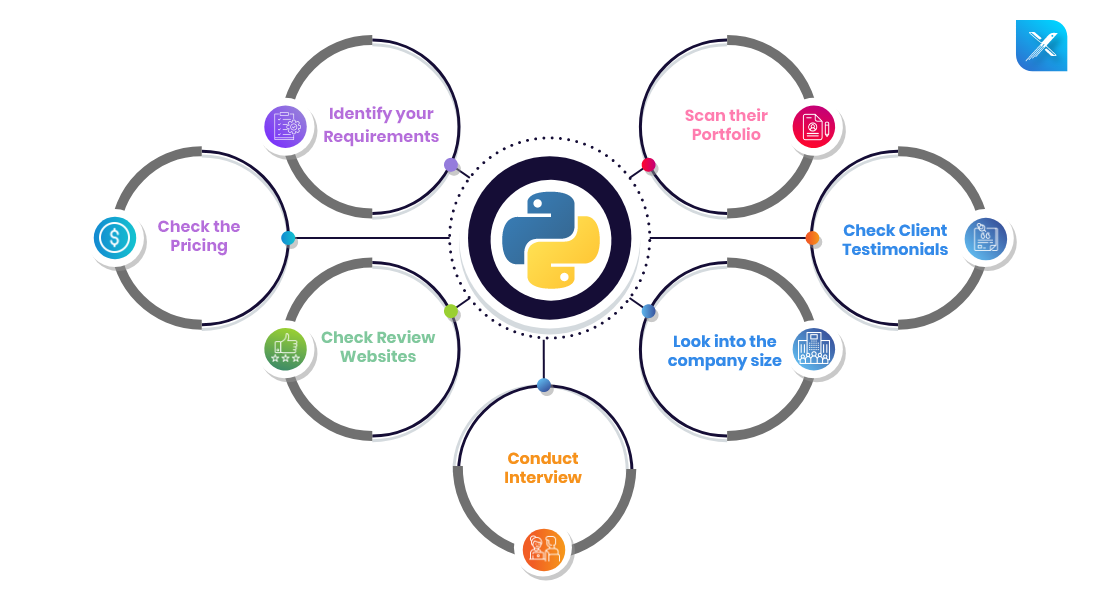 Identify your requirements
The very first thing that you need to do is to analyze your requirements. As Python has a lot of applications, it may be difficult for you to elaborate what you want clearly to the python web development company.
With the proper knowledge of your goal, you can research better to know what kind of tech stack is required, how much experienced staff you need and how much time it will take. For instance, if you are planning to upgrade your website or web app with new features, it may not take much time, but an experienced team is necessary.
In contrast to this, if you are eyeing developing an AI-based app, you may need a highly experienced staff, powerful tech stack, and it will surely take significant time.
The knowledge of your final goal and requirements will also help in saving money and time. The app development process won't have to undergo additional rounds of bug removing or feature adding stages.
Hence, finalizing your requirements before choosing a python development company is necessary.
Scan their Portfolio
Every development company has its project portfolio on its website. After you are done assessing your requirements, the next step is to go online and check if the development company offers the kind of service you need. For instance, some companies just offer general python services, whereas some of them are professional organizations and offer enterprise app development.
By visiting the website of the company, you will also get to know how many projects they have worked on, the time taken by them to complete the project, the type of projects, and what those projects include. Some firms also mention the following in their project portfolio:
The number of developers, designers, and project managers involved.
The technology stack used by the firm.
The time required to complete each stage of the project, such as market research, prototyping, designing, development, testing, and many others.
The screenshots or videos of the app or website working live.
All of these details can be really helpful for you to judge their work. Other than that, you will also get to know what technologies they use.
In the case of python, you get to know about the frameworks that the company uses, such as Django. Django is the commonly used python framework for web applications. If you have assessed your requirements carefully, you will be able to shortlist a python app development company quickly by just looking at the frameworks used.
Check Client Testimonials
When you Google python app development on the web and open any of the top results. You will surely see a section on the company website named client testimonials or what our clients say or something similar to this.
Every app development or web development firm adds this section to its website to attract clients. Usually, they all are positive reviews as no one will post negative reviews about their firm, right. However, these testimonials can help you understand a lot about the company.
Most of these testimonials include the experience of the clients that worked with the firm. They state their needs and what they got in the output. Other than this, the clients may also mention the expertise of the firm and turnaround time. You need to carefully analyze all of these factors to ensure that you make the right decision.
These client testimonials also contain the names of the clients and their respective companies. If required, you can search them on platforms like Clutch, Linked In, etc., to fetch their contact information and talk to them personally. This will help you get a better insight into the company's performance.
Look into the company size
No matter which company it is, each of them adds their team details on their website. Now, if you have done your homework properly, you will know what kind of team you need. For instance, if your python app or web development project is small, you may not need a big team of developers and designers.
In contrast, if you are planning to develop a web app like Youtube or Amazon with a plethora of features, you may need an enterprise-level team for that. This will be the case only if you are willing to spend more and expect results in less time.
For this, you can contact python development companies and ask them about their team size. You can probe them to know how many full-time developers they have, how many freelancers they operate with, etc. If it seems sufficient to you, you can go for that firm. It is ideal to look for a firm that has full-time python developers.
Check Review Websites
Testimonials are true to some extent as they all are positive. However, reviews about the companies are not just limited to onsite testimonials. There are many other legitimate websites on the web that provide you with clean reviews of the clients about their experience with the firm.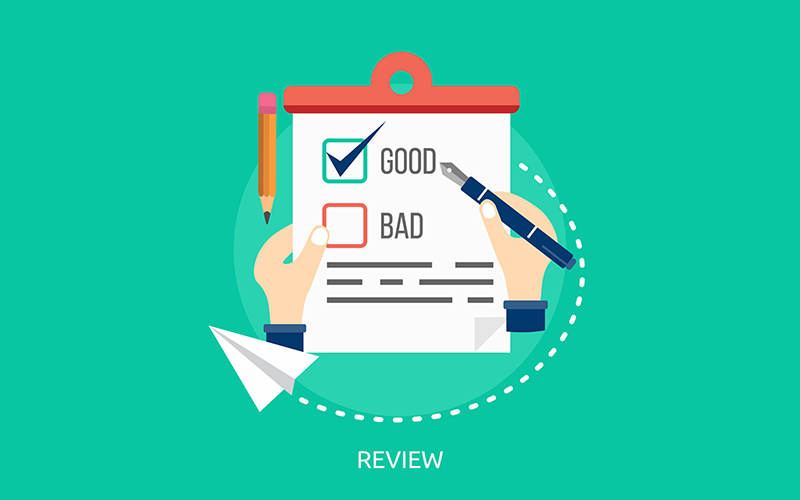 Source: Ilovetheplanet
For instance, Glassdoor, Clutch, LinkedIn, Facebook, Good Firms, and many others are some authoritative sites where you will get pure reviews about a firm. Other than that, you can also see clients providing ratings to the python development companies based on their experience. These websites can be a true eye-opener for you. Therefore, check these websites before making your final pick.
Check the Pricing
If all of the above factors have been verified by you, let's dig down the most crucial aspect, which is pricing. Pricing is an unavoidable aspect that needs to be carefully examined, especially if you are a startup.
As per CBInsights, around 38% of startups fail just because they fail to raise capital or they run out of cash. Hence, plan your investment well before choosing a python app development company.
When it comes to pricing, many aspects can affect the company you are choosing. For instance, there are companies that are highly expensive, and there are many reasons behind that, such as:
Their vibrant portfolio
Their rich client base
The number of employees and their expertise
Age of the company
Financial status
You can opt for these companies only if you have a high budget and a complex project demand. However, if you dig a bit deep, you may also find firms that have an excellent track record, but their pricing is economical. These firms focus more on attracting good clients at a good price.
There are many locations globally where you can find economically dedicated python developers like in Asian, African, and Eastern European countries. The hourly rate of python developers in these locations is $28, $31, and $37, respectively.
On the other hand, locations where the rate is a bit higher are Latin America, North America, and Western Europe. The hourly rate can vary from $50 to $70. It can be higher if you based on your requirements and expertise of the developers.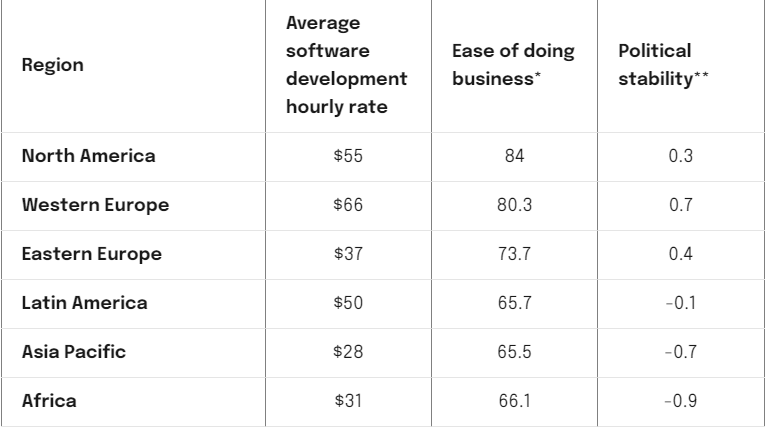 Source: Youteam
Conduct Interview
The last step to this entire process is to conduct an interview with the officials of the python web development company. After you have an idea about their pricing, ask them about their workflow. For instance, how will they undertake the entire development process, the stages of development, how much time they plan to spend on each stage, etc.?
Other than this, you can talk to their project manager to know how he or she is going to keep up the conversation, the frequency of conversation and updates, the medium of communication, etc.
Take your time to talk to the lead developers and designers to ensure that they have enough knowledge about their work. Ask them about delivery time and what if there is an issue with the final product. Enquire about what other services they offer, such as software update services, marketing services, and more.
Make sure you keep everything you have in your mind on the table so as to make a better decision choosing a python app development company.
Where to look for these Python Development Companies?
There are many portals online where you can hire dedicated python developers or python development companies. In fact, you can simply write on Google, and it will throw in hundreds of results in front of you. After that, it's all on you how you scan the companies based on the above-mentioned points.
Clutch: This is a business-to-business ratings and reviews website where you can search for the company super easily. It not only offers you a sorted list of companies, but you can also choose them based on location, hourly rate, budget, etc.
Upwork: Upwork is an ideal platform for freelancers. Hence, if you have a small project, you can rely on Upwork for quality work. You can check various aspects related to freelancers and agencies on Upwork, such as hiring rate, pay rate, and more. You just need a free account on it, and you are good to go!
Good Firms: This is another web portal for clients and customers to share their respective reviews and ratings. The best thing is that the website displays all the necessary aspects of a company, including the number of employees, hourly rate, star ratings, and location. It helps the people understand the company better.
Other than that, there are many other social platforms also where you can hire python developers. You can get professional clients on LinkedIn, Facebook, etc. 
Which is the Best Python web development company to hire?
Inexture is a Global Leading Python Development Company that best keeps in mind our client's unique requirements. Our professional team first understands your project concept and validates it into points then relevant assistance will be offered. Just tell us our ideas and leave everything to us. We will convert your ideas into reality with our top-class Python development services. Other than this we also take care of the budget which helps us in building long-lasting and strong relations with our clients. Give us a try! 
Wrapping Up!
To conclude, Python is one of the best programming languages to invest in. And if you have already made up your mind, you need to be careful while choosing a python web development company. Ensure that you take all the mentioned steps carefully and verify every minor and major detail. As it will be a game-changing decision for your firm, make it very carefully. 
Inexture is one of the best python development companies that can offer your cutting-edge development services. We at Inexture ensure that you get what you asked for. Our team of enthusiastic python developers is always ready to take on fresh challenges to deliver you the best output.