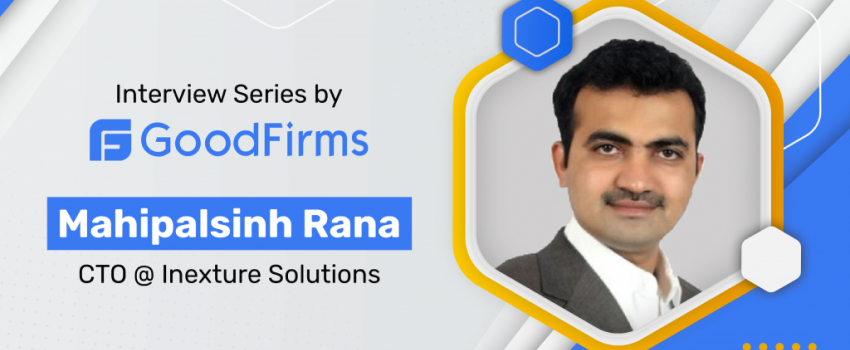 Incorporated in 2014 and based in Los Angeles, California, INEXTURE is an offshore IT and apps development company. It offers complete end-to-end software design, coding, consulting, and maintenance services.
The organization delivers quality and cost-effective solutions with a viable team of 90+ exceptional people, an in-house studio, and strong programming knowledge.
Beginning with web development and designing services, INEXTURE then explored and mastered Android apps Development, Python Development, Java Development, iPhone apps development, and mobile games. From mere php programming to customized apps development, the organization has successfully delivered all-size projects for different industry verticals.
With 100+ employees onboard and 150k+working hours, INEXTURE has delivered 300+ projects to 150+ clients worldwide.
The GoodFirms team approached Mahipalsinh, the CTO at INEXTURE Solutions. Starting with the interview, Mahipalsinh asserts that as the CTO at INEXTURE, he looks after all the technical aspects while guaranteeing that all the projects meet the deadlines.
Further, he explains the objective behind the commencement of the company by citing that the idea was to serve corporate clients by providing high-end and seamless mobile apps and business websites. The founders and partners at INEXTURE are happy that they have succeeded in achieving this objective by offering the esteemed clients future-ready IT solutions cost-effectively. INEXTURE's broad range of clientele includes startups, SMEs, and large enterprises worldwide.
Talking about the company's business model, Mahipalsinh divulges that INEXTURE is a robust IT outsourcing partner with a number of in-house teams of experienced developers. The professionals are capable of meeting the client's requirements throughout the software development life cycle – be it front-end or backend development, they always focus on maintaining high standards of design and development.
Moreover, the quality-driven approach and customer-oriented processes have made INEXTURE a reputed and reliable outsourcing partner. The team strives for meeting the clients' expectations by hiring the best people.
Elaborating on the well-known services rendered by the firm, Mahipalsinh says that INEXTURE helps clients maximize their ROI with our custom-built, high-impact, secure, scalable, and essential products. He adds to the statement mentioned above that INEXTURE is a full-cycle custom software development company to propel brands to new heights.
Over time, the company has excelled in the art of building custom software development and consulting services to help brands pull off their ensuing big project stress-free. The experts' team of engineers' takes ownership to solve the complex challenges while operating for enterprise-level software projects.
The skilled team drives success, enhances security, and minimizes risk from invention to design to development. While representing the software development lifecycle, they understand the necessities to create user experiences that stun users.
Moreover, INEXTURE's expertise as a custom software development company extends beyond all verticals – be it IoT, AI, Blockchain, Big Data; the abled group offer solutions to all industries, including Real Estate, Healthcare, Education, Entertainment, and a few others.
The engineers' team works with clients to create a multi-platform strategy to identify bottlenecks and pick the right tech stack to produce secure and scalable applications that align with clients' monetization strategies. From a full-fledged automatic framework for mobile and web, the specialists take ownership to deliver clients' perfect products.
Thus, providing bug-free and approved applications that delights users and makes management a breeze would soon endow INEXTURE to thrive amongst the top software developers in LA at GoodFirms.
The review displayed below confirms the quality service offerings rendered by INEXTURE Solutions.
Furthermore, Mahipalsinh mentions that the expertise in Python and other web technologies assists INEXTURE to excel. However, skilled professionals never consider other businesses their competitors and strive to meet clients' diverse and multifaceted business requirements across various industry domains through customized IT solutions.
The web developers' team provides clients the development services and solutions globally. As an outsourcing company, INEXTURE has strong footprints in different countries, including India, to access the entire talent pool.
The creative team at INEXTURE designs beautiful and engaging front-end using great front-end libraries like ReactJS, AngularJS, and CSS or any technology clients' would like to build on. In addition to this, the experienced full-stack developers are champions at developing RESTful API, Microservices on Cloud, and other such backend development services.
At INEXTURE, the professionals devise solutions to maximize clients' business efficiency. The team has mastered the art of producing websites that innovate, engage, and present results through a combination of a human-centric approach and development resourcefulness. Smart choices of the most advanced technologies and executing standardized coding structures help the team ensure that the processes and solutions are scalable and future-proof, improving the user experience.
Thus, striving to deliver remarkable results would soon endow INEXTURE as one of the best website development service providers in Ahmedabad at GoodFirms.
The review below proves the quality of websites developed at INEXTURE Solutions.
In conclusion, Mahipalsinh says that INEXTURE usually caters to the BFSI, transportation & logistics, manufacturing, and retail or ecommerce sector. Repetition of customers is one of the strengths, and the team feels proud in mentioning that the organization has an over 80% of client repetition ratio.
INEXTURE has gained a 95% customer satisfaction ratio to date. Once the client approaches the firm, the professionals do extensive research on market trends, industry demands, and the customer's expectations to make a complete roadmap to serve the clients with feature-rich and user-friendly solutions in a cost-effective way.
Lastly, Mahipalsinh mentions that INEXTURE offers real-time technical assistance during and after the development phase. The clients can raise their concerns or share their suggestions using any convenient means of communication, including emails and conference calls.
Thus, having read the in-depth excerpt from Mahipalsinh's interview, one can also go through the detailed interview at GoodFirms.
About GoodFirms
Washington, D.C.-based GoodFirms is a maverick B2B research and reviews firm that aligns its efforts in finding the web development and software development agencies delivering unparalleled services to its clients. GoodFirms' extensive research process ranks the companies, boosts their online reputation, and helps service seekers pick the right technology partner that meets their business needs.