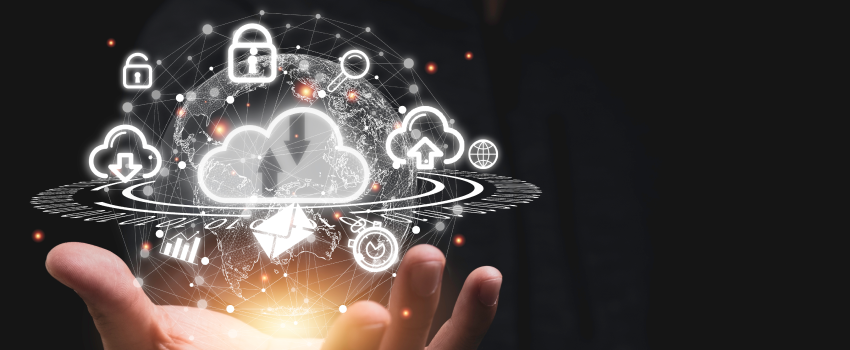 Digital transformation is a reality, and every business is looking for ways to digitize its processes at every level. Companies seek newer and innovative technologies that can automate their processes and keep them ahead of the competition. In fact, according to Statista, digitally transformed businesses are predicted to contribute to more than half of the world's GDP by 2023. 
Specialized software such as Digital Experience Platform (DXP) drives the digital transformation trend from the front. When ordinary customers become digital customers, the need for a better, more personalized and consistent digital experience across various digital touchpoints is felt.
Businesses saw the need to have an agile and scalable technology that brings together UI, content management, CRM, marketing automation, analytics and more in a single platform. It, perhaps, explains the origins and need for Liferay portal development – a specialized digital experience platform.
Liferay Digital Experience Platform – A Leader among Leaders
Liferay is the ultimate digital experience platform that offers simplified solutions for almost all businesses transformation pain points.
Need further proof of Liferay's prowess?
Take the word of Gartner – which has acknowledged Liferay as one of the leaders in the Magic Quadrant for DXP in 2021.
If you want to upgrade your legacy portals to advanced technology, then Liferay DXP is the way forward. Highly specialized software can create a personalized customer experience and offer innovative and future-ready solutions at every digital touchpoint.
Points to Keep in Mind when Upgrading Liferay DXP
Liferay is a fairly straightforward enterprise platform that packs in many features and benefits for businesses looking for an agile, scalable and simplified solution for their business needs. Liferay DXP is especially useful for companies looking at Liferay migration and up-gradation.
There are many reasons why enterprises prefer Liferay DXP, but migrating could be taxing and time-consuming. That's where we chip in – we have done our homework and are presenting you with the top 10 points to remember when making a move from Liferay 6.2 to Liferay 7/DXP. 
Although Liferay portal migration or up-gradation is simple, if you want the transformation from legacy enterprise portals into innovative, agile platforms to be smooth and eventless, we recommend you consider these pointers.
1. Set a Feasible Timeline
The age-old adage, 'if you fail to plan, you plan to fail' is true even when upgrading your Liferay portal. 
Dedicate some quality time and effort to planning the migration, understanding the risks and considering the benefits. 
Ask yourself some pertinent questions, such as,
What is my current version?

How much should I backup?

How much of my current templates, content and web structure will change?

Do I have the necessary EXT for up-gradation?
2. Remove Unnecessary Files
Once you have charted out a plan, start the up-gradation process by removing all unwanted files and objects. 
Start the process by first examining tables that contain large or multiple records. For example, lookup sites and remove all unwanted or older versions of content from them. Remove instances to improve the optimization process. Make sure you delete all inactive user databases from the older version. 
We also suggest you go ahead and remove all duplicated data and content structures from the portal. The reason being DXP demands you to have unique field names for all fields in the structure. If you find any duplication, you need to rename such fields and ensure they have unique names. 
3. Check Compatibility
Before proceeding further, we suggest you check the compatibility of your existing enterprise environment with DXP. You must make sure your legacy environment is compatible with DXP and is in a supported environment that can receive support. 
Additionally, you must also ensure that all previous custom deployed plugins have a valid alternative in the latest DXP / Liferay 7 version. This step is crucial as it helps get all your plugins in working order right from the word go, and the portal functions the way it's supposed to. 
4. Ensure Complete Data Backup
Once you have removed all unnecessary data, you will be left with the most crucial data for your business. 
It is a significant step in data migration as you wouldn't want to lose critical data just because something went wrong during the up-gradation process. 
To avoid any cases of data mismatch or missing data, make sure you backup your data and store it in various locations along with source codes. You will recover all your data even if there is a hitch in the up-gradation process. 
5. Ensure Process Flow is Mapped Properly
To ensure the up-gradation process is flawless, make sure to map and store the entire process flow and properties accurately. This step will make it easier for you to upgrade and migrate to the new channels without compromising customer experience. 
6. Database Upgrade
The next step in the up-gradation process is applying all database pointers, indexes, and search queries correctly and removing search indexing will avoid any slowdowns during up-gradation. 
Database upgrade usually consists of two separate steps: code migration and upgrading module-based OSGi framework. 
Liferay DXP makes use of the OSGi framework container – a new deployment strategy. Although Liferay DXP recommends you use OSGi bundles for new Liferay development, you can still use WARs in Liferay. Still, you should note that you might lose all the access to services deployed to the OSGi container. 
When upgrading the database, remember that some,
Functionalities have been changed, replaced or entirely removed.

Changes have been made to templates

Changes have been made to configurations

Incompatibilities in API

Any new recommendations

End of support
7.  Keep an Eye on Documentation and Configuration
Documentation and configuration should always be triple-checked to ensure they are in place. Only when the documentation is available for configuration changes will the admins be able to access documents via the content management system
8. Focus on Theme File Migration
A Liferay DXP upgrade usually involves new themes for upgraded portals. When upgrading to a news portal, the theme files might go missing if you aren't careful. We suggest you note down the theme file migration and upgrade in the up-gradation process document to avoid this. 
9. Ensure Elasticsearch is Included
Elasticsearch is an embedded search engine in Liferay DXP. Elasticsearch is recognized as one of the most popular search engines out there known for business analytics, full-text search, operational intelligence, and more. 
This set of open-source tools are a highly sought-out search engine that allows businesses to store, analyze and search through large volumes. Moreover, it is scalable, runs the search queries in real-time and quickly, and is super-analytical. When upgrading to Liferay DXP, make sure there are provisions included for Elasticsearch as well. 
10. Populate the Scripts with Relevant Elements
Finally, always have a clear up-gradation path that you should adhere to, and keep a note of all the elements that have been changed, deployed or included. The scripts must know the accurate location of all the elements for the up-gradation to Liferay DXP to work well.
Final Word
Liferay DXP is a feature-rich, digital experience-enhancing platform with a range of dynamic, intuitive, and beneficial functionalities. These up-gradation to Liferay DXP 7.4 tips will make your digital experiences easier and more efficient.
The platform manages your content, supports @mention blog entries, personal data management, comes with dynamic virtual hosting, business automation process, customer experience management and a Liferay marketplace to boot.
Seek out an experienced Liferay developer to revamp your customer experience. You can improve your business efficiency manifold by upgrading to Liferay DXP since you will be bringing along the portal and the corresponding elements, blogs, content, cached files, and images.