Reasons to choose Android Application Development
Android Development has become one of the most basic needs for any business to survive. Because almost every business is online and selling their products and services to the entire world with their Android Application. So, you can sell almost everything to any corner on the Earth with your Android App.So, making a mobile app for your business has become a necessity. A lot of businesses have gained extraordinary achievements through mobile app development. As Android is an open-source operating system for mobile phones, it is getting used by a lot of smartphone manufacturers. Furthermore, Android's new innovations and latest features make it an irresistible Operating System these days.
According to a survey on the global smartphone OSs, Android alone holds the smartphone market by more than 70%. Around 74% of global smartphone users use Android. So, a lot of people around this world uses Android, and you can easily target those people with a great Android Application.
Here are some reasons why you should opt for Android App Development for your business
Why Choose Android Development
#1 Android is everywhere
As we talked before, more than 74% of smartphone users use Android from all over the world. The second place is iOS which shares 25% of the global market. So, Android + iPhone shares more than 99% of the smartphone market, and the rest 1% audience uses other smartphones. So, keep this in your mind 'Android is Everwhere". If you go to the gas station and the payment collected on POS, might be based on Android. There are Smartphones, wearable,s TVs, and even POSs are based on Android.
So, do not get surprised at seeing any other electronics product based on Android. Looking at the Android usability by almost everyone, we can't deny the fact that "Android is everywhere"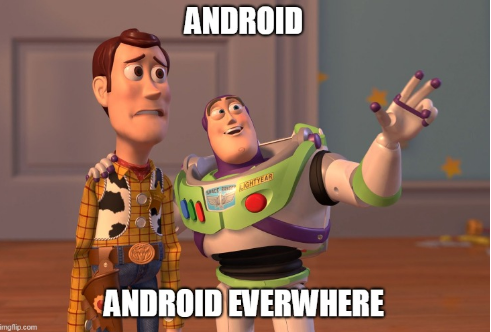 #2 Low entry barrier
Looking at the rival of Android, which is iOS is quite costly at development from every aspect. So, we can say Android is a low entry barrier. The reason to say so is that a developer has to pay a nominal fee of 25 USD (as of June 2020) to register themselves as an Android Developer and make their app available on the App Store. Moreover, Android Development can be done on any machine from Windows, Linux, or iOS machines. So, the overall development cost will be also down for Android Development. For iOS Apps, there is a yearly subscription of 99 USD which makes is quite costly (as compared to Android) to upload your app on the App Store.
So, Android is the Low Entry Barrier advantage and anyone can register themselves as Android Developer on the Play Store and make their Application available for the whole world, and it is not even costly! Isn't that a good reason to choose Android Development?
#3 Open source
Another big reason to choose Android Development is it is open-source. It is free to use and it even allows you to modify the OS the way you want. People who prefer to use the phone the way they want, use custom ROMs, or develop their own custom ROM. Thanks to the Android open-source advantage. Since Android is open to everyone, there are a lot of custom ROMs in the market, and people use those custom ROM to make their phones behave the way they want. So, you got the open-source advantage as well.
Free software and OSs are what the users love most, and Android is one such free OS, which is used by a lot of smartphone manufacturers so, you get that advantage. So, overall you can target all those people who use the free OS, those who use custom ROM through Android Development for your business.
#4 Innovation Supporting
Android is known for its innovations and frequently adding the newest features on its Operating System Android. So, Android always encourages innovative features and applications. If you are working on something innovative, then Google might have a look at it and offer to support you. So, if your app is innovative, then Google might offer you a huge amount and support for you to innovate new features on Android.
Google always implements new functions in the OS and new features are also added to the Android Development Studio. So, the developers can use those new features and develop something innovative for the users. So, you will get the innovative advantage as well, only when you avail of Android Application Development Services.
#5 Social Advantage
Android apps are known for their compatibility with social media, hence those who prefer to spread the voice of their business via social media prefer Android App Development. Sharing content or app or app screen is easy with Android Apps, so users are most likely to share the products on the Android App, and spread the word among their family and friends. And people really prefer those products and services recommended by their family and friends, so your business will get new customers from social sharing as well!
So businesses will get their words spread by their users to their family and friends by sharing the app and its content. So, if you want to get their business spread through your users, then you should go for Android App Development.
So, these are the topmost advantage of choosing Android App Development and availing Android App Development Services which you can't simply ignore. There are a lot of advantages of choosing Android App Development, but due to limited space on this blog, we might not list them, but trust us, there are a lot of reasons.
If you too, want to develop a mobile app for your business then contact us, we are one of the Best Android App Development Company  in India and we deliver a perfect digital solution for your business.