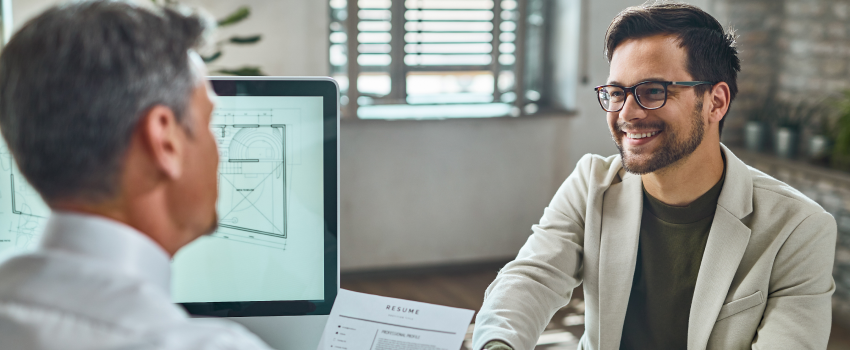 Introduction
Python is the ruler of computer programming languages. It boasts of its lead by 12% from the second position scorer Java. For this reason, the demand for Python consultants is the highest and also their salary structure is positioned as a premium.
Surprisingly, even an entry-level Python developer earns much more than the established Java consultants. But how to hire Python developers or what are the various factors which drive the choice of their selection for the best, is a matter of concern.
In this detailed comprehensive guide on how to hire Python developers in India 2021, you will be accustomed to all the details. At the end of our blog, you will get a clear picture of how to choose the best Python developer for your next project.
What is Python?
Python is the most popular computer programming language of today. It widely applies across website building, task automation, data visualisation, machine learning and software testing activities. 
This general-purpose programming language is highly versatile and beginners friendly, because of which it is the choice of multiple Fortune 500 companies. 
Big brands like Netflix, Uber, Spotify and more make use of Python to conduct data analysis, build websites, automate tasks and build software too. 
Because of its ease of learning, even non-tech professionals like scientists and accounts make use of Python language in executing routine computer activities like managing finances or inventory. Python is much popular amongst big brands because:
Of its multiple third-party modules that help develop interactive frameworks.

Of its extensive library for completing various projects.

It's a free and open-source language.

Its uncluttered syntax makes reading and writing easy.

It enhances productivity and speed.
Why do you Need to Hire Python Experts?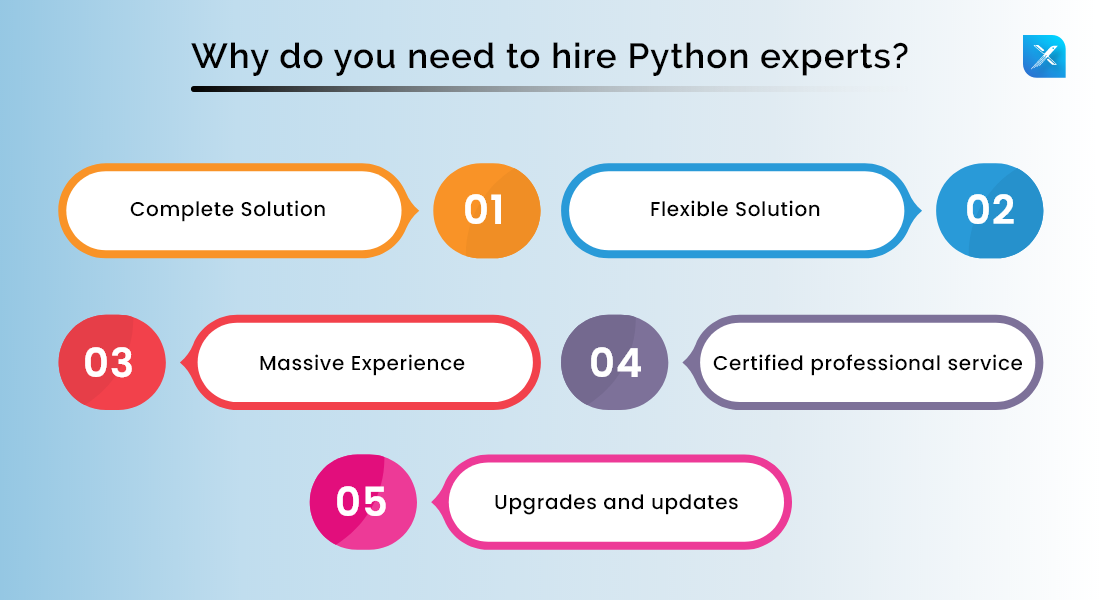 Now that we are acquainted with the dynamics of the Python computer programming language, it's time to understand why we need experts to implement this language in our computer-based requirements. Although Python is an easy to learn language, its expert execution is essential because when you hire dedicated Python developers, you are benefited with:
Complete Solution
When you hire Python experts, you are at the leverage of using the attributes of Python for data analysis and machine learning, automation and scripting, web development, software testing and prototyping, and other routine tasks like keeping track of the stock market, Filling online forms or converting text files to spreadsheets.
Flexible Solution
Professional Python app developers can comfortably handle both frontend and backend project development.
Massive Experience
A well versed Python developer is a person who has complete knowledge of other programming languages too, like java, HTML, CSS, etc. Therefore, when you hire a Python web developer, you are benefiting from a plethora of expert services to completely transform the project.
Certified professional service
Python developers are certified professionals who add flawless attributes to the website and other integrated applications, too.
Upgrades and updates
People who are ace Python professionals are always well versed in language updates and so upgrade their projects as and when needed.
Better Methods to Hire Dedicated Python Developers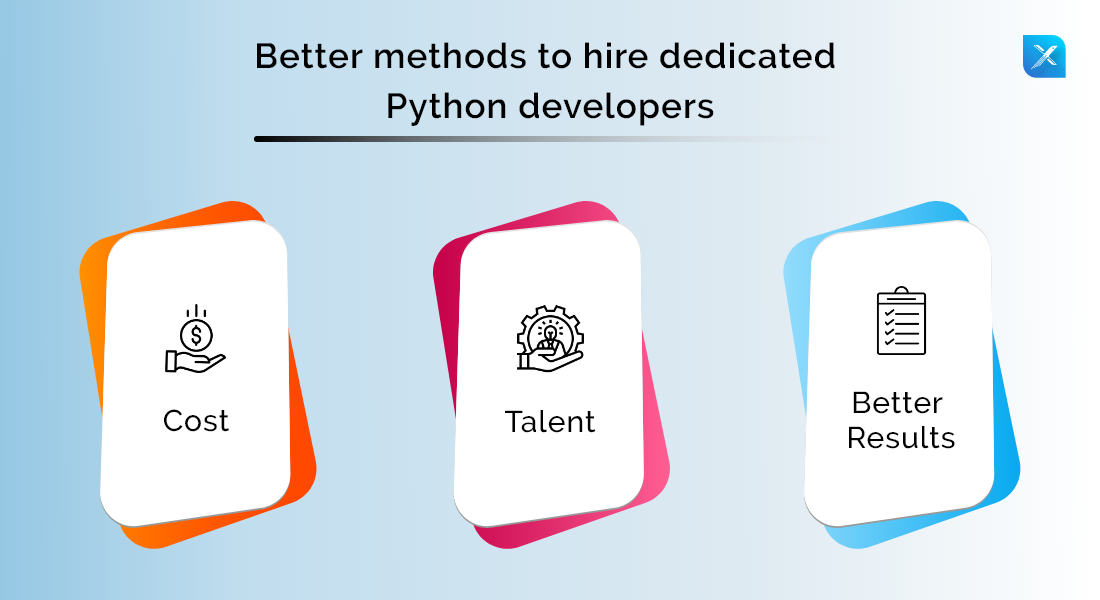 Now that you are all prepared to hire Python Django developers, it's time to decide whether you want an in-house developer or a remote one? To make this decision, you need to evaluate both on the below-mentioned parameters:
Cost
BY cost we mean the charges of both kinds of Python developers. For example, in the U.S.A. the in-house developers charge in a range of $88,492 to $112,985 annually. Whereas the remote developers charge hourly.
Talent
The in-house developers are a limited number of people located in the same geographical location as yours. Hiring them from cross-borders is an expensive affair. Whereas, the remorse developers are spread worldwide, and you can avail of their services on an hourly basis without spending on their relocation.
Better Results
As per the study conducted by Owl Labs, the remote developers are 22% more focused on their work. As a result, they are less stressed and their productivity is better.
On the basis of the above points, remorse developers are more affordable and highly productive compared to the in-house team. But now the question is how to hire them?
Ways to Hire Remote Python app Developers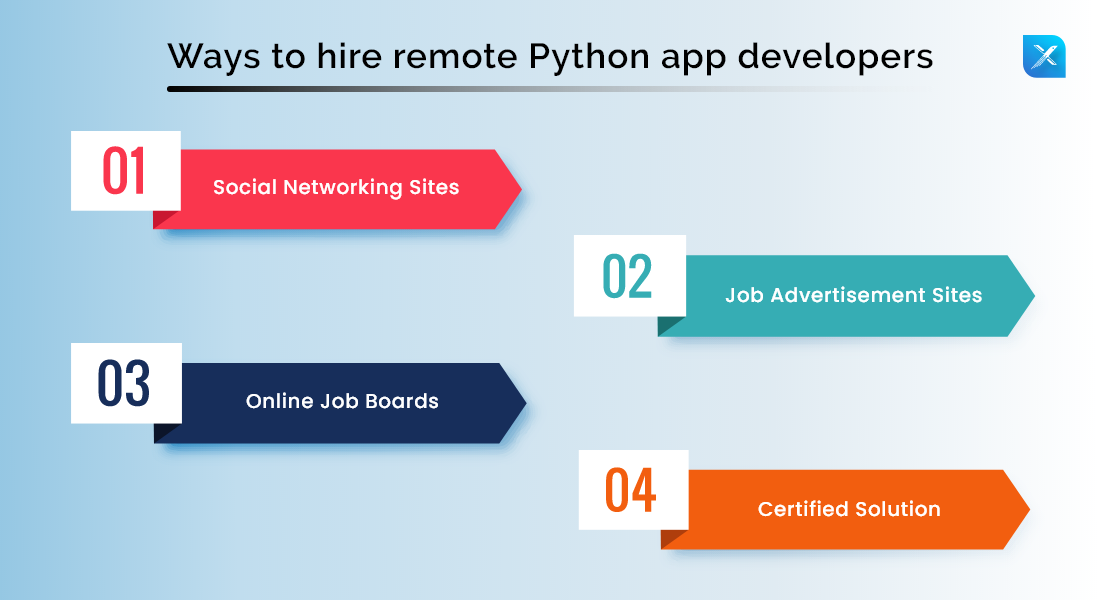 The three most competent options to hire experienced developers for your upcoming project:
Social Networking Sites
There are millions of people active on social media every hour. So if you post your remote Python app developer requirement on any social media sites like Facebook or LinkedIn, you are sure to avail a positive response within a few hours. Additionally, you have the option to choose the best from the available confident candidates, who have shown interest. But over, here you need to add a closing time for submitting applications or showing interest. Otherwise, the number of applications will exceed your expectations.
Job Advertisement Sites
JOb advertisement sites are the most prominent source of searching for remote developers. Sites like Craigslist or Indeed have innumerable applicants to choose from. Also, you can find many remote developers, who are locally situated.
Online Job Boards
Job boards are websites that are specially designed to deal with the employment needs of companies and individuals. GitHub and Stackflow are popular online job boards for hiring certified Python developers.
Certified Solution
INEXTURE is one such certified solution provider to meet the needs of your Python developer. Therefore, if you don't want to enter the hassle of finding a needle from a stack of hay, this option is best for you. To avail of this option, you need to:
Share the requirement

The best talent will be shortlisted for you

You need to approve the chosen developer

Avail the trial free of cost service from the developer

If satisfied, get your project done. 
How to Shortlist the Best Python Developers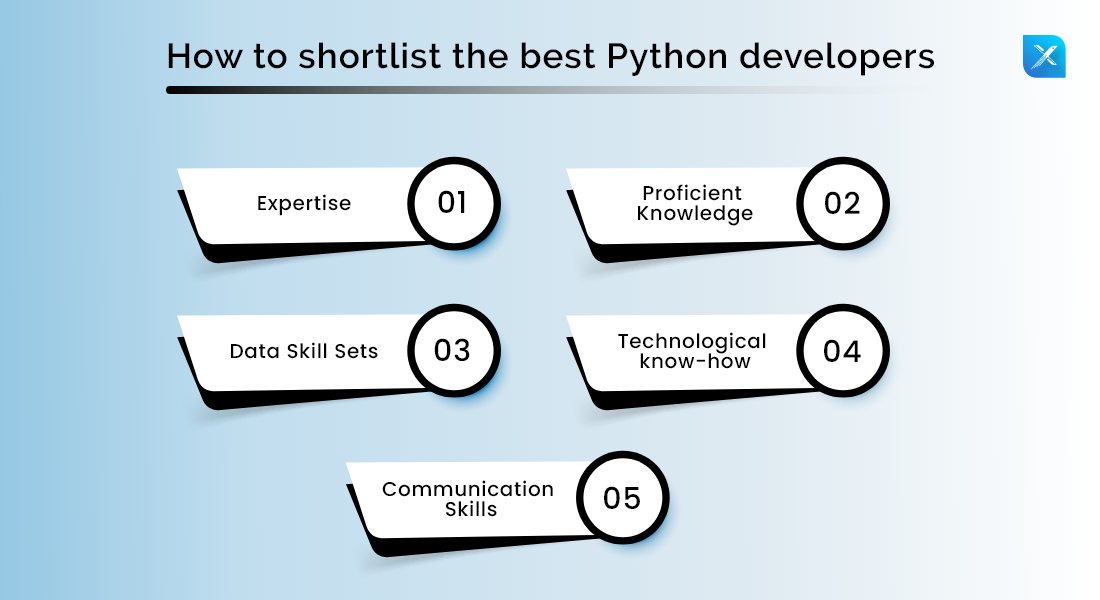 The best Python developers are shortlisted based on the following particulars:
Expertise
The professional Python developer or representative of the Python web development company should have full-fledged knowledge of the Python language. He should be aware of the basic Python concepts like OOPS, data structure, iterators, file handling, etc.
Proficient Knowledge
The chosen Python developer should know various Python web frameworks, like Flask and Django. Apart from this, he should also be proficient in Javascript, CSS, HTML, and other languages supporting Python.
Data Skill Sets
Developers who own the best data skill set are the most productive of all. They are the pro data scientists. Therefore, the chosen developer should have knowledge of data wrangling, data analysis, mathematics, etc.
Technological know-how
For the current age project development, you need to hire a dedicated Python consultant who is a pro in all the trending technologies like Artificial Intelligence, Internet Of Things, Machine Learning, Blockchain, and more.
Communication Skills
Communication is the key to the effective execution of any task. Your chosen Python developer therefore should be smooth in communicating with all the other departments of the organisation and in maintaining relations with them.
Where to Find the Best Python Developers
Now that you are aware of the skill sets needed in a professional Python developer, the next question is where to find the best Python developer?
To get rid of the complexities of finding the best talent or taking care of their financial needs, along with regular follow-ups, some companies consider outsourcing the project to the Python web development companies themselves.
Such Python development agencies customise their services as per the needs of their clients.
The rates of Python developers in every software company vary. So choose one that provides the best of services at rational pricing. If your requirement is on-site, it's always better to hire in-house developers.
The costs involved in such a case will be that of a Python developer's salary and other factors like perks and benefits, compensation, housing allowance and more.
Hire Python developers India, Poland, the Philippines to avail the best of Python development services at nominal charges. The developers available in Australia, Canada, the USA and other European countries charge comparatively higher rates.
Apart from all the above resources, LinkedIn is one wonderful source for hiring a Python developer. Over here you can get entry-level, mid-level or senior-level Python developers as per your project needs.
Factors to be Considered when Hiring Python Developers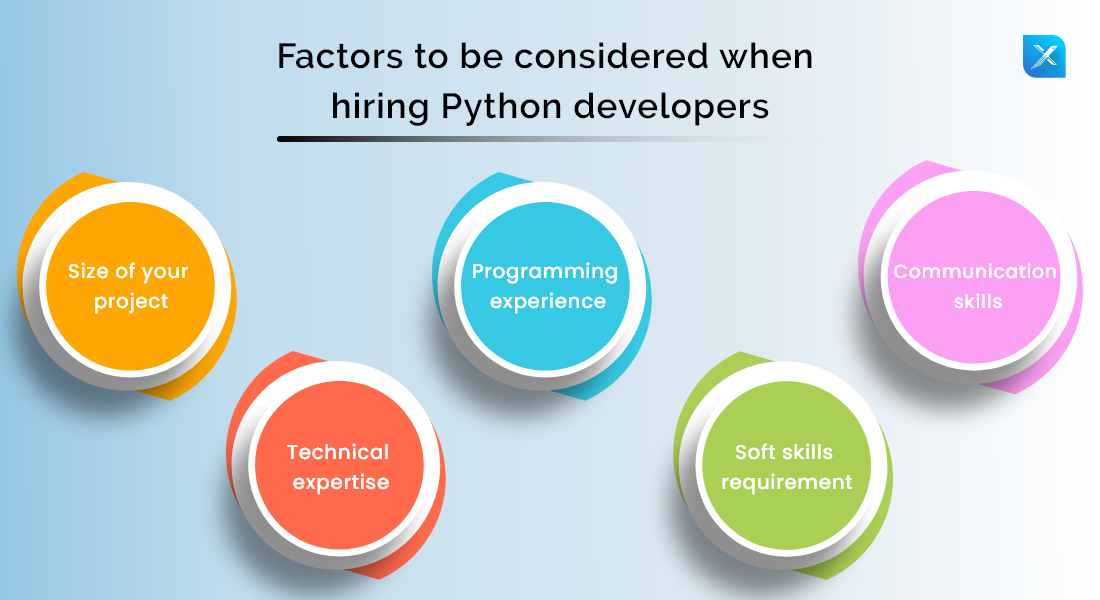 Because of the increased demand for Python developers, their charges are also high. A full-fledged and highly experienced Python developer charges a hefty amount because, apart from Python, he is also well versed in other programming languages like Java. Such professionals are well versed and updated with modern technological requirements like cloud computing, machine learning, NLP and other modern technologies.
You need to remember that a mid-level Python developer will always have less experience and skill set as compared to his senior. For this purpose, we have created a special section for hiring senior, mid and entry-level Python developers. Do read.
Moving on to the factors which need your attention before you hire a Python developer:
Size of your Project
Identify the size, scope, and complexity level of your project. This will help you decide the level of developer and number of developers needed by you to complete the project on time. The scalability and potential of the project are the two factors that rule the choice of the Python developers team.
Technical Expertise
You need to see that if you have hired a senior level Python developer; he is well versed with all the technical skills like Django, Docker, AWS, Machine Learning, FLASK, REST, Git, Kubernetes, API, Cloud Computing, DevOps, Apache Spark, MySQL, among others.
Programming Experience
Python developers with 5-8 years of experience are considered senior. The ones with 3-5 years are considered middle level and less than 3 years are considered entry-level or junior level. More years of experience means more innovative intellect.
Soft Skills Requirement
Apart from technical skills, the needed Python developer should also be well versed with soft skills. Soft skills help Python developers to think innovatively beyond the technical aspects.
Communication Skills
Excellent communication skills of the Python developers are needed to establish good relations with the project stakeholders.
Once the above factors have been taken into consideration, you can also assess the developers on the basis of technical skills and responsibilities. But before that, share with them the nature of the project they need to work upon- AR and VR, artificial intelligence, web application, etc. If every point is compatible with both the parties, then move ahead with the execution.
Hiring Entry-level Python app Developers
Experience level
0 to 2 years

Skills needed
Knowledge of general Python syntax

Knowledge of data structures

Basic knowledge of SQL 

Basic CVS skills 

Experience of popular web frameworks
The entry-level developer should be able to curate the project from scratch and should have had previous Python experience.
Hiring junior-level Python app Developers
Experience level
3 to 6 years

Skills needed
Sound knowledge of object-oriented design, codes, and test patterns

Experience in Big Data solutions 

Software development experience in Python

Experience in maintaining software platforms

Knowledge of cloud computing service 
Hiring Senior-level Python app Developers
Experience level
6+ years

Skills needed
Proficiency in writing complex Python programmes as per industry standards

Proficiency in front-end technologies like JavaScript, CSS3, HTML5, etc.

Knowledge of object-relational mapper (ORM) libraries

Experience in data visualisation tools (Tableau, Qlik, and Query languages like SAS, SQL, and Hive)

Knowledge of AWS and other cloud computing services

Knowledge of HDFS, Hive, Pig, Spark, and Scala

Strong debugging skills and understanding of threading limitations
Charges of Python Consultants
The salary of Python developers is very high. This increase in their salary is because of the increased demand for Python developers in recent years. The average cost of Python developers, as charged by many consultant agencies, is $50 – $70 per hour. Depending on the increased potential and dynamic functionalities, the rates increase further.
However, an in-depth idea about the Python application development cost will give a better idea about the cost of remote and in-house Python developers, in general.
How to assess the Python Developers
Python developer assessment tests are designed by global subject matter experts to assess the knowledge of Python developers at various grades, as per industry standards. Such tests help the recruitment agencies and hiring companies to screen and select the candidates based on their OOPS concepts and Data Structure.
The Python developer skill test helps employers and other recruiters to shortlist potential candidates by evaluating them on job readiness. The emphasis of such assessment exams is on the knowledge of applied skills gained through actual work experience. A detailed analysis of the results of these exams helps to recruit the best talent with no biases.
These assessment tests are conducted online and consist of:
MCQ's (Multiple-Choice Questions)

MAQ's (Multiple Answer Questions)

Audio / Video Questions

Coding Simulations
Python developer assessment exams identify the skills like:
Data Structure

OOPS Concepts

Variable & Data Types

File Handling Concepts

Exception Handling
A few examples of such assessment exams are:
Wrapping up
A Python developer is a proactive person involved in curating projects based on computer programming language, especially Python-based. Also, the need and skill set of Python developers varies based on the project requirement. So. You as a hirer need to study the above details before you make the last call to your developer for your upcoming project. We want you to hire the best.