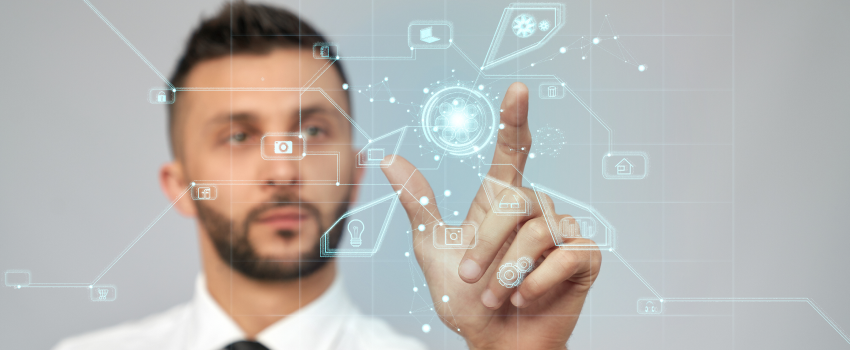 Computer vision in AI (artificial intelligence) has been in existence for a long time. Automation has always held multiple applications for machine learning services through computer vision. 
Computer vision is being increasingly used in many sectors, whether it is about processing social media traffic, targeting customers based on what they purchased previously, whether it is about autonomous driving, about retail and the healthcare sector. 
Artificial intelligent development  stands with pillars like machine learning, deep learning, chatbots, and so on supporting it. 
Computer vision in AI is one of those pillars, performing together, these pillars have made AI the concept everyone wants to adopt in today's period. We are going to talk about how computer vision is proving itself to be one of the crucial technologies these days.
What is Computer Vision in AI?
Computer vision, often abbreviated as CV, is a branch of computer science that focuses on allowing computers to see and understand the content of digital images such as photographs and videos. To put it simply, Computer vision in AI  is the concept that trains computers to interpret and understand the visual world with the help of deep learning models. 
It is a multidisciplinary domain that could in general be called a subfield of AI Development services, which may involve the usage of specific methods and make use of general learning algorithms.
As a multidisciplinary area of study, it tends to look messy sometimes, with techniques borrowed and reused from a range of disparate engineering and computer science fields. But it is as useful as anything.
Here are the areas where computer vision applications are useful:
Facial Recognition
Businesses avail computer vision in AI and facial recognition for security purposes. Facial recognition is primarily used to identify visual cues. If you own a prodigious business setup, chances are that many people do enter and exit from the venue. With a facial recognition setup, you are carefree as you have all the records of persons who have taken a visit.
Moreover, facial recognition can also extend (when it comes to speaking) to animals. The Zoological Society of London (ZSL) has used AutoML to identify known species of animals and identify new ones from a wide array of visual data from camera traps around the world and place estimates on population size.
Face recognition or face detection is a process of scanning a raw image and making computers understanding the same. The facial recognition process starts with an application for the camera, it is the process of identifying and verifying a person if he is there in the photograph.
Image Search and Object Recognition
Many systems use the data vision theory in order to identify objects that are present within the digital image. With object recognition in computer vision, you are enabled to search through extensive catalogs of images, you can extract information out of the photos, too.
Google is an ideal example, the google translate app has shown its wonders by enabling people who speak different languages to use it easily. All you have got to do is to turn on your mobile's camera to the words and let the computer vision recognition do its job. A computer vision application is going to translate it for you in any language you prefer.
Thus, in no time, you will get to see the results with optical character recognition doing its work to see the image coupled with augmented reality to create a precise translation (with context). Most PDF readers come with this feature, as well.
According to Tractica, the global revenue from computer vision software, hardware, and services is projected to grow from $1.1 billion in 2016 to $26.2 billion by 2025.
Here is the Vision of Computer Vision in AI's Future:
The market intelligence firm forecasts that the development in computer vision will be driven by a wide range of industries and an increasing diversity of applications. As per the analysis made by these market intelligence experts, below are the top 10 features under the term "computer vision in AI"
Video Surveillance

Machine/vehicular object detection/identification

Medical Image Analysis

Augmented Reality/ Virtual Reality

Localization and Mapping

Converting paperwork into digital data

Human emotional analysis

Ad insertions into images and videos

Face Recognition

Real estate development optimization
As the businesses are matching the pace with development, they are always in the need of technologies that are made to alleviate their responsibilities. More important than that, businesses want their customers to leverage the personalized services they do offer, enabling the usage of these technologies can help you stand out in your customers' eyes, how? 
Using these technologies can help you figure out what your customers are looking for, based on their previous shopping, if you successfully provide them with their desired products and services. Likelihood of them returning to you increases! Using computer vision can help you attain the same. 
Moreover, if you are in the quest for an erudite team to help you with computer vision guidance. Inexture solutions LLP can be your end-to-end assistant! Let us know when we can set up a call to discuss your milestones. 
The key aspects of computer vision include methods for acquiring, processing, analyzing, and understanding digital images, and extraction of high-dimensional data from the real world to produce numerical or symbolic information.
Computer vision skills are certainly relevant to many potential careers. If you add a bit of coursework in machine learning/pattern recognition and maybe graphics, AI planning, sensor fusion, or Kalman filters, and there you have a classic set of relevant skills that few data scientists can propose.
Computer vision is growing and developing in popularity fast. It's likely to be part of your everyday life.