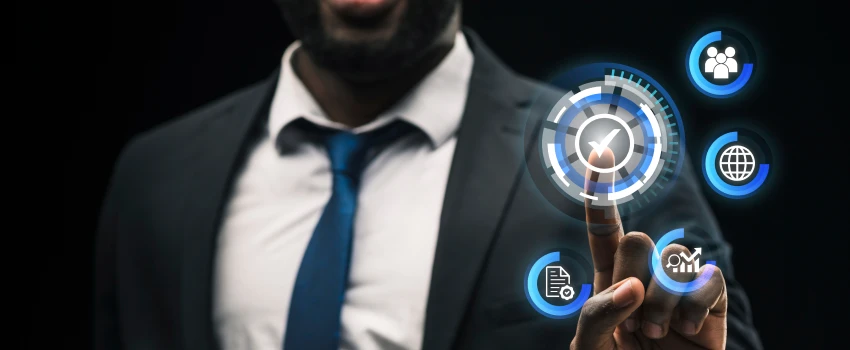 An enterprise portal is a web-based platform that provides employees, customers, and partners with a single point of access to information, applications, and communication tools. It is designed to streamline business processes, improve collaboration, and enhance productivity by providing users with personalised and relevant content based on their roles and responsibilities.
Personalised content, search functionality, collaboration tools, and interaction with enterprise systems are common aspects of enterprise portals. They are intended to increase communication and cooperation, streamline business processes, and boost productivity by giving users a single point of access to the resources they require to complete their activities. 
Let's take a look at what Enterprise Portal development services are. 
Web-based portals that act as a central hub for enterprise applications, data, and services are created as part of Enterprise Portal development services.

Portal design, modification, integration, maintenance, and support are among the services offered.

These services are often provided by software development firms to assist organisations in developing customised portals that match their individual demands and objectives.

By streamlining company processes and offering a single point of access to enterprise systems and data, Enterprise Portal development services aim to promote collaboration, productivity, and efficiency.

Enterprise Portal development services can assist firms in integrating many enterprise systems such as CRM, and HR management systems into a single portal, making data sharing and collaboration easier.

These services can also assist businesses with migrating their old portals to newer versions or upgrading to the most recent technology, ensuring that the portal remains secure and up to date with the most recent features and capabilities.

Overall, Enterprise Portal development services can play an important role in promoting business growth and success by offering a customised, scalable, and secure portal that suits the enterprise's specific needs. 
Liferay technology enables businesses to construct websites, intranets, and other web-based applications. It provides tools and features that make it easier for businesses to create interactive and personalised web experiences for their users. It is written in Java and is meant to be a scalable and stable solution for developing enterprise-grade portals.   It has a huge and active developer and user community that contributes to its development and provides assistance. Liferay is adaptable and can be adjusted to unique business requirements, making it a popular solution for businesses of all sizes.
Liferay is the best technology for developing enterprise portals due to its unique features and benefits, such as:
Flexible and Configurable: Liferay includes a large number of pre-built components, themes, and templates that may be customised to create unique and engaging portals adapted to specific business requirements.
Open-Source: Because Liferay is an open-source technology, businesses can use and change the software for free, making it a cost-effective and accessible option for organisations of all sizes.
Scalable: Liferay is built to manage large-scale enterprise deployments and can scale to support millions of users and massive amounts of data. This makes it an excellent platform for enterprises that must manage large amounts of data and traffic.
Robust and Reliable: Liferay has robust security features that help protect sensitive data and prevent unauthorized access to the portal. It includes features such as user authentication, access control, and encryption, which ensure that only authorized users can access the portal.
Integration: Liferay can easily integrate with other enterprise systems, such as CRM, and HR management systems, making it easy to share data between different systems and create a seamless user experience.
Active Community: Liferay has a large and active community of developers and users who are constantly working on improving the technology, adding new features, and providing support. 
User-Friendly Interface: Liferay offers a user-friendly interface that is easy to navigate, making it ideal for both novice and experienced users. 
The potential of Liferay in the development of enterprise portals.
Liferay is an open-source platform that is both sturdy and scalable, making it ideal for the creation of enterprise portals. It offers a complete set of tools and capabilities that allow firms to create customised portals for a variety of reasons.
One of Liferay's primary features is its adaptability. It has a modular architecture that enables developers to easily add, delete, or change features as needed. This implies that instead of being constrained by the possibilities of a pre-built solution, firms may construct portals that are customised to their specific needs.
Finally, Liferay technology provides an extensive collection of tools and functionalities, making it the finest solution for constructing enterprise portals. Its scalability, adaptability, open-access, resilience, dependability, integration, and user-friendly interface make it an ideal platform for optimising business operations, improving collaboration, and increasing productivity. Developers can quickly customise portals to unique company needs using Liferay's modular architecture, and add or remove functionality as needed. Liferay's potential in enterprise portal development originates from its ability to handle large-scale corporate deployments, manage massive amounts of data and traffic, and easily interact with other enterprise systems. Overall, Liferay technology is a good solution for businesses looking to create customised and scalable portals that meet their specific demands and goals.