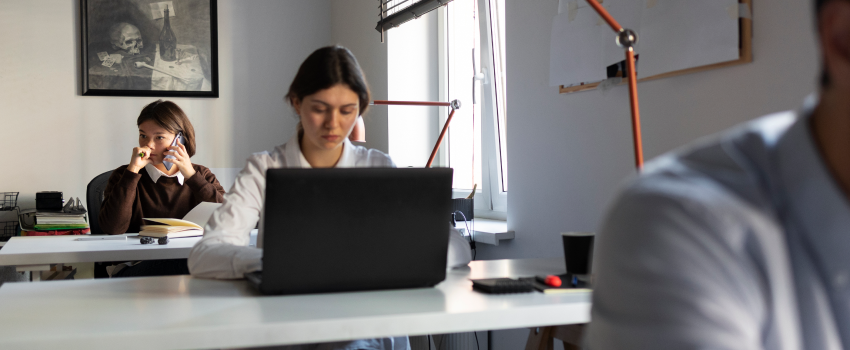 Building a business means hiring the right people for the job. But the phrase "right people" is not easy to decode. There are a lot of prerequisites associated with hiring someone for a job, including Django developers.
As we have transitioned from a premises-based workspace to a remote working environment, companies often get confused between a freelancer or an agency. Both types of work arrangements have their advantages and disadvantages.
Knowing them is essential for you to understand before you can hire Python or Django developers. In this guide, we will talk about both types of professionals and try to make a choice between the two easier for you.

Difference between a Freelancer and an Agency
Starting with the basics, let's see how a freelancer differs from an agency.
Agency: An agency is a group of professionals working together to complete a project. What's the arrangement among the people who work in the agency and the person who owns it is not the concern of a client. The client is only interested in getting the work done. Because a number of people are working together, the client is not concerned with the management of the same.
Freelancer: In contrast to an agency, a freelancer works alone and is not connected to any sort of agency or a company. The freelancer works independently and is often referred to as a consultant when hired by a company. The freelancers are solely responsible for managing the work and ensuring timely delivery. With the recent turn of events connected to the aftermath of the pandemic, we have seen an increase in the number of freelancers across the globe.
According to a 2019 study, the number of freelancers has increased by 10 million in the last five years.
Comparing Freelancer and an Agency | Face-off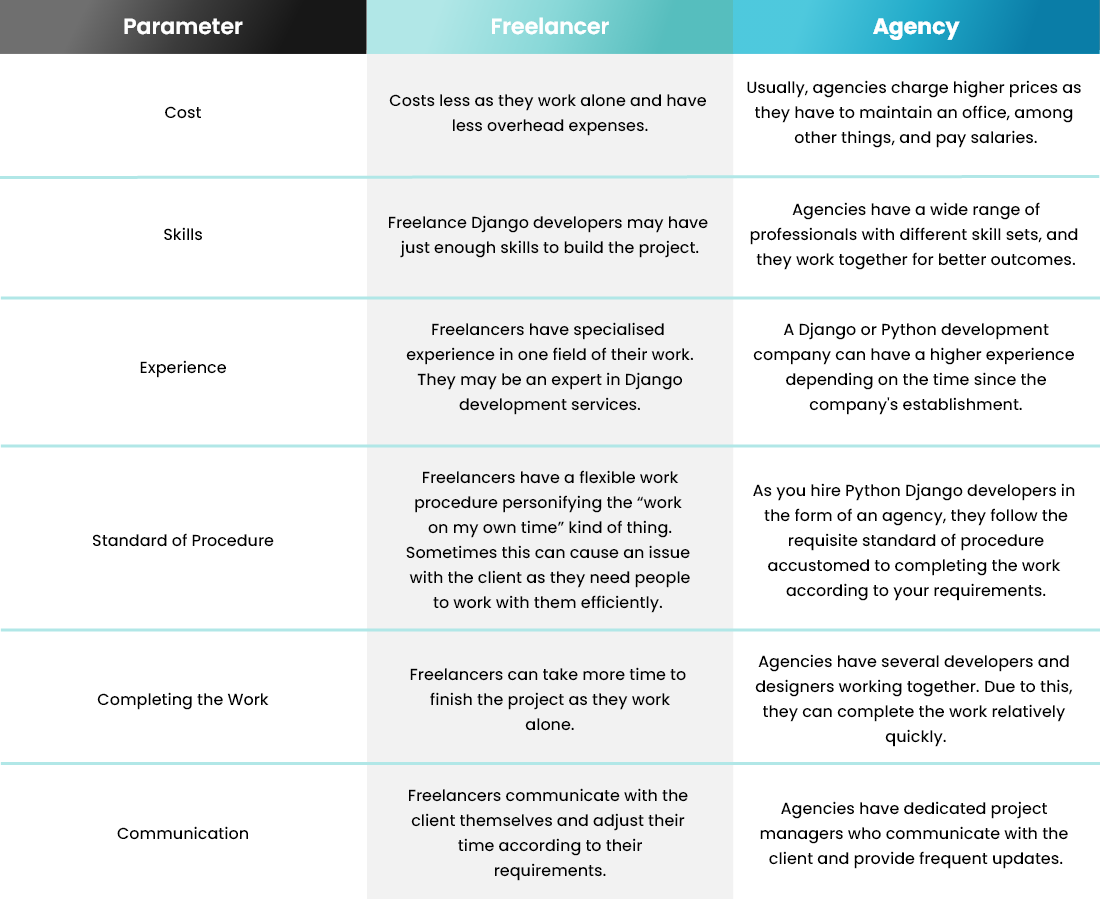 Advantages of Working with a Freelancer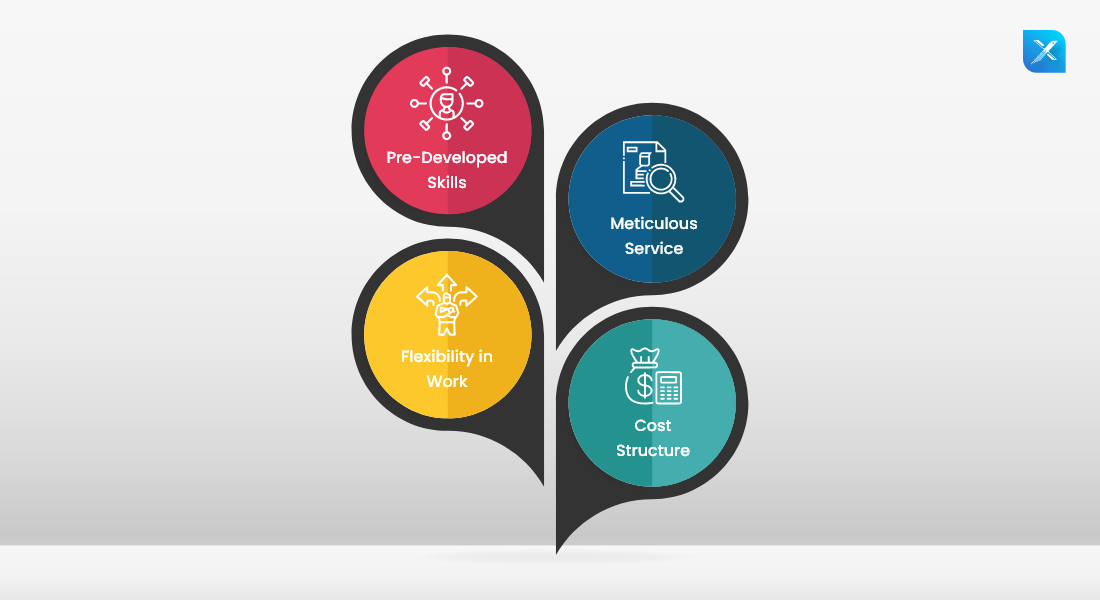 Pre-Developed Skills: The majority of freelancers are skilled and knowledgeable professionals. As they do not usually begin their careers on their own; instead, freelancers might have worked for a number of firms before deciding to work for themselves. 
So when it comes to selecting Django developers from a bunch of freelancers, their experience can become one of the selection criteria. Having worked in organizations before, freelancers are blessed with a broader perspective on development, marketing, and how they interact with the audience.
Meticulous Service: As freelance Django development services providers or Python consultants for that matter are self-employed, their reputation is crucial to their success. They'll almost certainly deliver outstanding service and see to it that your requirements are met. 
It is in the freelancer's best interest to strive for outcomes. After all, they want you to tell other business owners about them. They're also strong communicators because they self-manage almost everything.
This makes them habitual of understanding how the market works and can explain marketing lingo to small businesses, which don't always have the same background as larger corporations.
Flexibility in Work: Another benefit is that freelancers will be more welcoming to tailor their schedules according to your needs, which is not the case with a Python development company. If a company does agree to work on your project with priority, they are more likely to charge a higher price than usual. 
However, a freelancer can build their schedule according to your needs and goals. If they live in the same city as your office, they can also pay a visit for discussions.
Cost Structure: In comparison to an agency, a freelancer frequently works from home or a tiny office with relatively little overhead expenditures. Most freelancers work on a project basis, which means they don't always have a clear idea of what tasks they'll be working on next month.
Due to this, they tend to charge less than a Django development services company. But that is not the case all the time. If freelancers are in great demand and/or operate largely on a project basis without the safety net of retainers, they may charge higher.
Disadvantages of Working with a Freelancer
Job Guarantee: Freelancers are like free birds, which means there is no guarantee that they'll do the work fairly. To this end, as a client, you need to put the terms and conditions of the job into a formal contract. Plus, there are solutions to track a freelancer's work as they are building your Django-based application. 
Narrow Skillset: It will be difficult to find a freelancer with a broad range of skills, which kind of pushes your hand to hire multiple people at once and then spend some money on managing them effectively.
It can also be time-consuming to explain your vision again and deal with multiple freelancers. It is here that an agency looks more approachable in terms of costs being spent on a single channel and communicating with a single person instead of many. 
Time Consuming: Compared to an agency of JavaScript, Django, or Python consultants, a freelancer can take more time to finish the project. One of the reasons for this is their lack of resources.
Freelancers often work alone, which limits their ability to discuss ideas or find answers from fellow professionals. Even though they have the web and dedicated online communities to get help, freelancers can take more time to finish a project.
Advantages of Working with an Agency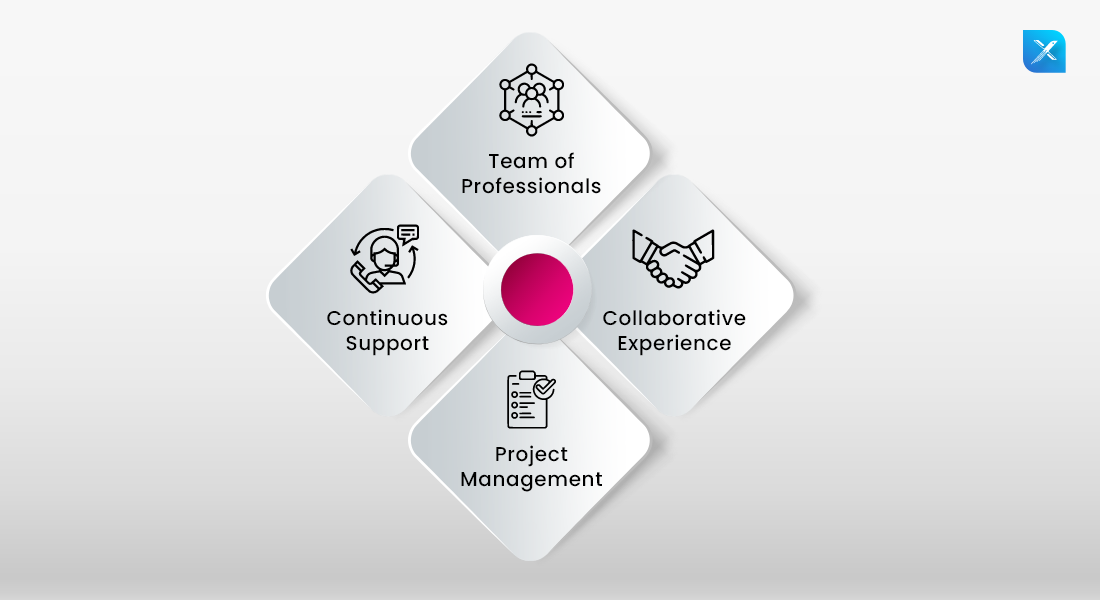 Team of Professionals: The most significant benefit of working with a Python development company is having access to a large, multi-faceted staff that can handle all of your design, development, and marketing needs.
Also, in an agency, the professionals can easily anticipate their clients' 'next steps.' For example, they advise ahead of time that marketing the new brand and website is critical after a rebranding project.
They can complete the following assignment; however, a freelancer may just be adept at branding the company and hence be unable to do follow-up work.
Furthermore, because a single team completes every component of the project, the end output is more consistent and polished than if you hired numerous freelancers who did not collaborate.
Collaborative Experience: A team of Django developers can easily share their ideas and bring their experience together to work on your project. This makes them more efficient and proactive in terms of innovating and building a unique solution.
This collection of ideas, teamwork, and like-mindedness is good for your project. Moreover, an agency might not be working only on your project. Because they have more projects and possibly different requirements, an agency learns from working on these other projects and implements the perfect way to build yours with speed and accuracy.
Project Management: A Python development company has a dedicated project manager who is responsible for taking care of the entire project. The manager ensures the implementation of the product development timeline, divides down work, allocates roles, and ensures that everything goes according to plan.
As a result, you will understand the project's workflow and ensure on-time delivery. A product manager will also handle regular communication between you and the team so you can stay informed about the progress.There are a number of excellent collaboration software development firms that specialise in making communication simple and straightforward.
Continuous Support: Most agencies provide continuous support for development and design and continuously analyze user input for future editions, depending on the size and complexity of your project. This is especially critical now as digital and mobile projects are becoming more complicated and overlapping with other business units.
As a client, you will benefit from the continuous support of the services accompanied with the core tasks. This extends to maintenance and upgrading the application, and adding new features.
Disadvantages of Working with an Agency
Cost: Working with a Django or Python development organisation is often more expensive than hiring a freelancer for any given function. However, because agencies can bundle many services together and work as a team to accomplish the deliverable in the shortest amount of time, it might be argued that they truly provide the most value for your money.
Besides the salaries of the development and design team, a digital agency has a lot of expenses. They usually operate out of rented offices and employ graphic designers, creatives, and other professionals, all of whom come at a high cost. Hence, the cost to hire Django and Python developers in the form of an agency is higher.
Rigid Work Timings: Although it has changed to some extent today due to the overbearing remote working environment, agencies often have a fixed time schedule. As the agency owners hire employees on a fixed salary, they work from 9 to 5.
This causes issues with regular communication, and if the agency is located in a different timezone, the collaboration issues will multiply. Working with a freelancer is easier on this front as they work alone and can set their work timings according to your requirements.
Conclusion
Companies looking to hire Django developers need to look at different aspects before hiring. They need to look at the developer's experience, performance, and expertise better to understand the ability of the company or individual consultant.
The choice between the two is not an easy one, but if you have set your priorities right and understand the project requirements, it can become easier. Choose the agency or developer who can satisfy your requirements and finish the project on time.
Consider the costs of hiring a Python development company or a consultant as the final step before hiring.